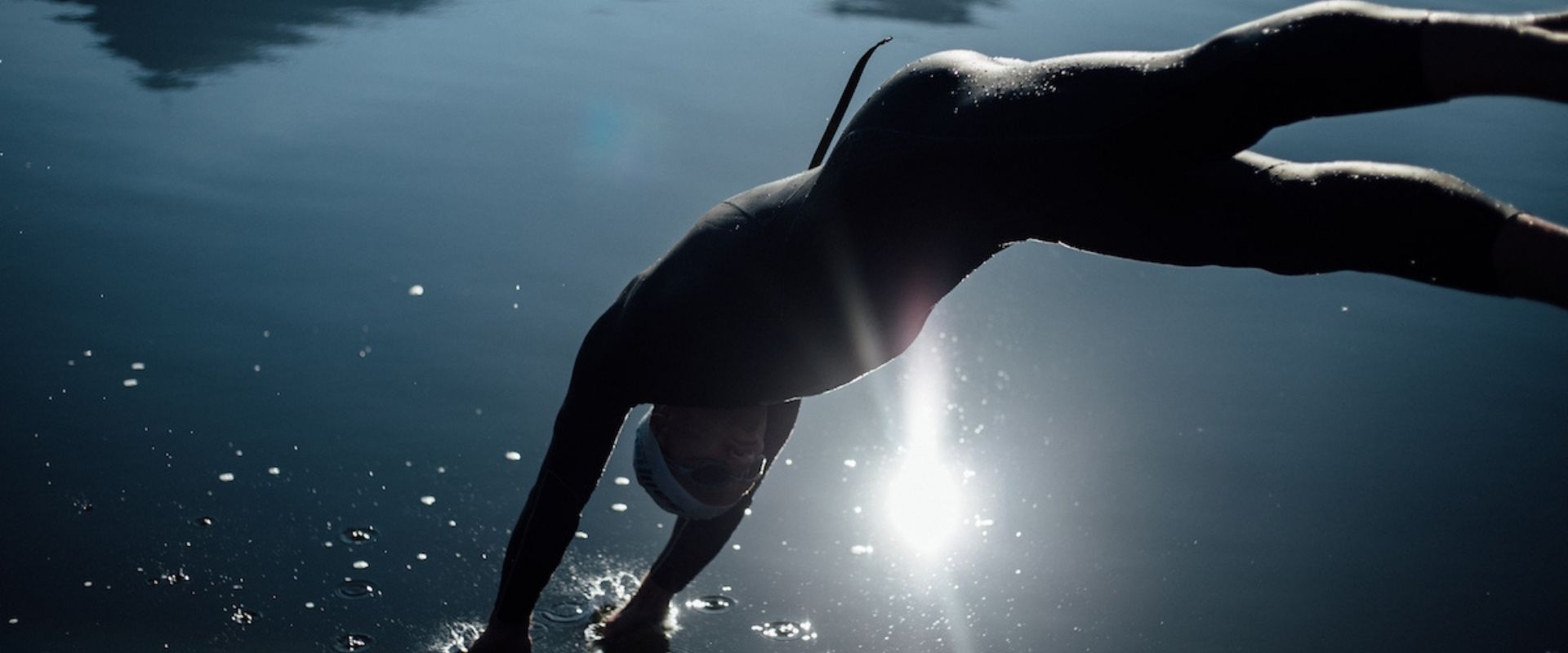 NILS FROMMHOLD
Endura's Challenge Roth winner
GOOD MORNING, KITZBÜHEL
The sun rises over a lake in Kitzbühel of such preternatural stillness that it seems to be made from glass.
It's 5am and already obvious that whatever happens here today will do so under cloudless skies and in hot and breathless conditions. The delicious cool of the early morning will soon evaporate even if, reassuringly, the lake is unlikely to follow suit.
An hour later, and not much has changed, except for the gathering of a small party on one side of the water. Photographer Sean Hardy digs the scene - this is light to die for, after all - while the athlete at the centre of affairs pulls on a wetsuit.
Things are starting to make sense. Endura, the renegade Scottish clothing brand that has quietly lent its support to some of the strongest athletes in Austria, Germany and Switzerland, has brought together sporting talents as diverse as Paralympian Denise Schindler and Race Across America winner Severin Zotter to illustrate the strength of its All Tribes, One Clan concept.
The man in the wetsuit has drawn the short straw - or hit the jackpot, depending on your point of view - by being the first of this gifted group before the lens. We learn later that he was accustomed to 6am starts even before the arrival of his baby daughter, and the tranquility of the sun-kissed lake would surely appease even the grumpiest night owl forced to rise early.
The athlete adjusts his swim cap, pulls on his goggles, and positions his bare toes - intentionally or otherwise - precisely where the concrete path that surrounds the lake abuts a wooden 'step' into the water. He is toeing the line, in the most literal sense.
Moments later, he enters the water in a graceful dive; arms outstretched, body jackknifed behind. For a split second, his feet and lower legs are all that are visible as he disappears below the water line, seemingly slipping beneath the skin of the lake. Nils Frommhold is in his element.
#CLEARLY NILS
Frommhold is the short course phenomenon who returned from career-threatening injury to win an Ironman triathlon at his first attempt (Arizona, 2012). He is one an elite group to have broken the eight-hour barrer for a full-distance triathlon, including Endura stablemates Tim Don and Joe Skipper - all of whom recorded sub-eight hour times in the Scottish brand's QDCclothing.
His fastest time - a cool 07:51:28 - brought him victory at the 2015 Challenge Roth, arguably the most important race in Germany, and so of added significance to a Berliner now based in Freiburg. He is the winner too of a host of 113km races, most recently the 2017 Ironman 70.3 in St Pölten.
To describe Frommhold by his results, however, is somehow to miss the point. He is a softly spoken rebuke to the dominant image of triathlon: a sport filled with alpha personalities, impatient to share the data from their latest training session. Frommhold is as tough as any, but combines an unquenchable will to win with a softer side that encompasses a self-deprecating sense of humour and obvious devotion to his wife and daughter.
"I have no crazy hobbies!" he laughs, when I ask him to describe life away from competition. "Of course, a lot has changed with the birth of our daughter, six months ago. It's changed my thinking, and not just because I'm now a father. Since Louisa has been with us, it's been easier for me to start running at 6am, because I know that someone needs me and I want to be there. It's easier to work to a plan."
Few professional athletes in the modern age function without a hashtag. The #ClearlyNils monicker adopted by Frommhold is an apt choice for such an open and honest personality, even if he is not a prolific Tweeter or 'Gram-er. One suspects he is happier to let his results to do the talking.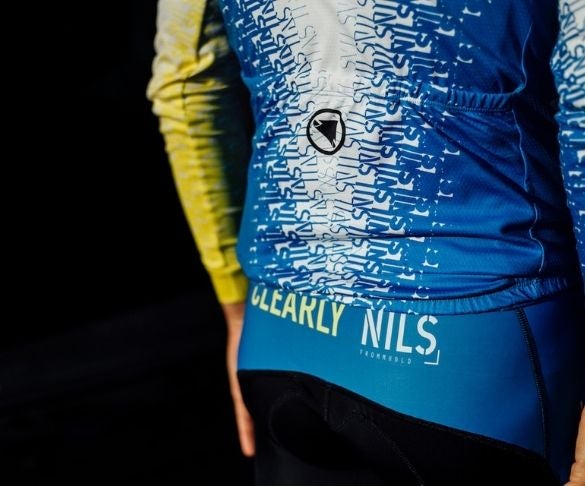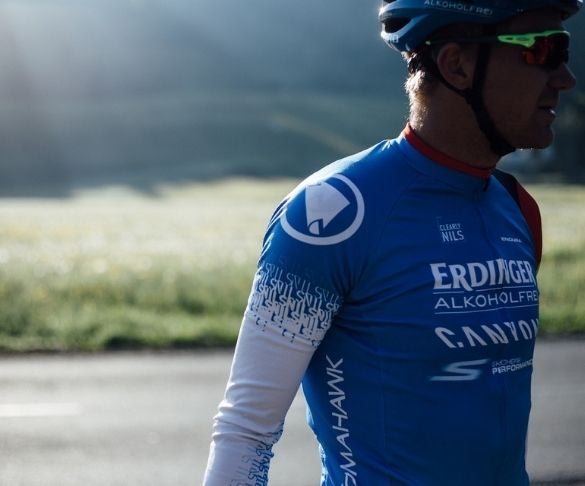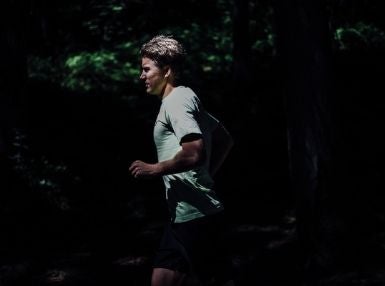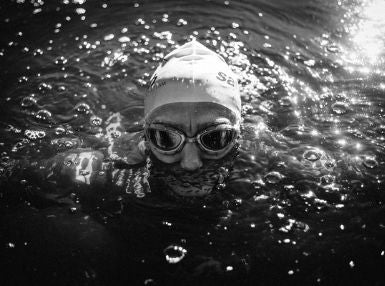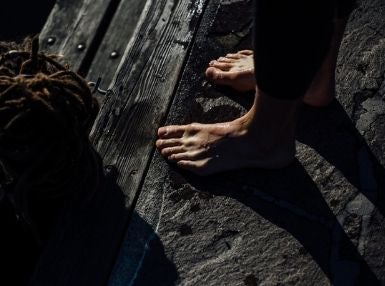 ONE DIRECTION
"It was not love at first sight," Frommhold says of his evolving relationship with triathlon, "but a longer process."
Frommhold's 75kg physique ("It's more like 77kg!") betrays his background as a swimmer. He swam competitively during his school days, but after completing his studies, drew a line under his career in the pool. "I said to my mother: 'I'm done with swimming!'" he says, laughing. Aged 18, he retired from a sport for which he still looks perfectly equipped.
(The photo shoot at the lake is followed by another in the hotel pool. The images speak volumes for his talent as a swimmer, even if he is realistic about its value to an Ironman triathlete. A race cannot be won in the water, he reasons; the best one can hope for is to emerge with the leaders, and so with the widest range of tactical options.)
He had not foreseen the weight gain that would accompany his retirement from swimming. Triathlon entered his life merely as a goal for training. "For me, it's very difficult to just train," he admits. "I need a goal."
The training paid dividends almost immediately. His triathlon career took off. "It was just one direction," he reflects. Frommhold was soon selected for the German national team in the under-23 category. Victories in European Cup events were rewarded with membership of the senior squad. A place in the German army's sport corps gave him a salary to train.
Ten years later, Frommhold is not only older, but infinitely wiser. He has overcome the greatest challenge of his career - a stress fracture in his left shinbone in 2011 - and would consider himself unlucky to suffer such a debilitating injury again.
He describes a seemingly endless period of rehabilitation as "a rollercoaster". It brought to an abrupt halt what many had perceived as an unstoppable rise through the sport. Frommhold did not run for nearly 13 months, and, such was the complexity of the injury, was forced to stop cycling and swimming too.
"I had nearly half-a-year on crutches," he recalls. "I had a talk with the doctors from the [German] squad, where they told me that, in their eyes, it was better to concentrate on my studies than to come back to triathlon."
The prospect would be unappealing to all but the most dedicated academic. For an elite athlete, to be forced to contemplate a life without competition must have been an ordeal. He forces a smile and offers a neat contrast between the distinct appeals of sport and study.
"You do sport because you love it; you study because you want to do something else."
FIT FOR PURPOSE
Sport is not an indulgence for Frommhold, despite the obvious pleasure he derives from it.
A post from his Instagram account the day after winning in St Pölten is revealing: "It's not about being satisfied with what you have reached, but to get back to work and try to be better then you were yesterday." I ask where he finds the greatest motivation: in self-improvement, or in vanquishing his competitors?
"That's an interesting question. Of course, on race day, I compete against the others. For me, it's not important to finish in the fastest possible time; it's important to finish in the highest rank possible. Maybe, when you race like this, you have to take risks to get into a better position, so it's not just the time that's important, it's the possibility to win races.
"That's a completely different thing to the preparation. In training, I focus entirely on becoming a better athlete. Of course, as a better athlete, it's easier to compete against the others, but on race day, it's a different thing. To race in an Ironman is such a long day, and such a long distance. It's a race against the others, where before it's more a race against me."
He is immediately identifiable as an elite athlete, even when padding through the hotel in Kitzbühel that Endura has chosen for a gathering of some of its athletes. When he sits down with the likes of Severin Zotter, winner of the 2015 Race Across America, and Zotter's riding partner Lukas Kienriech, it is clear who is the multi-discipline athlete and who are the specialists.
Frommhold radiates good health. He has no need for excessive weight management. A monstrous training load - anything between 25 and 30 hours a week, spread over five days - takes care of calorie consumption. And a step up from Olympic distance to Ironman has reduced the need for excessive leanness. A runner must be light to be fast, he concedes, but speed is only part of the equation for an Ironman competitor.
"It's not the speed that is the problem, it's more the energy that you burn. It's not so important to run fast as it is to run economically, and that fits me. Now I'm a little bit heavier than on the shorter distance times, and that also makes it easier in training. It's easier to recover when you're not on the limit of your body's possibilities."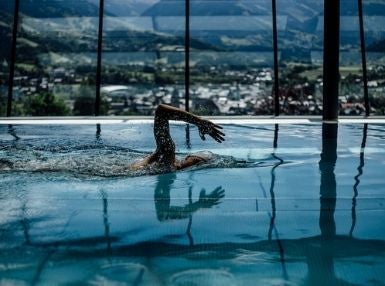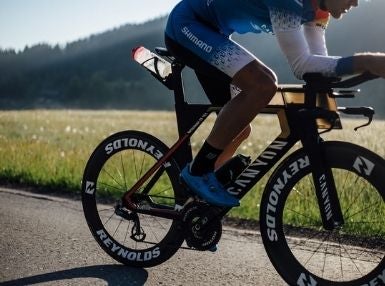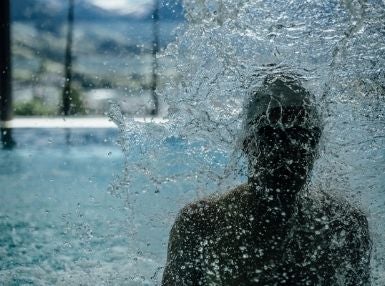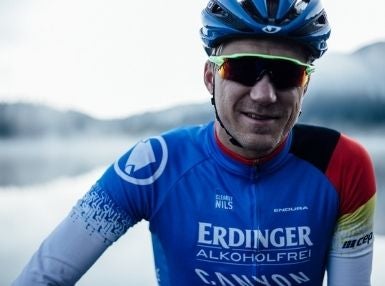 IRON MAN
Frommhold is now 30 and a fully-fledged Ironman triathlete. His first victory in triathlon's most demanding discipline came at his first attempt: victory in the 2012 Ironman Arizona. His peers had cautioned against stepping up to the full distance as such a comparatively young athlete, let alone one returning to the sport after such a long and enforced absence, but Frommhold was insistent.
"My change was from the short distance - Olympic distance - directly to Ironman. I was 27 years of age, and a lot of people said to me, 'It's too early', but I wanted to go to the longer distance because the 70.3 wasn't the challenge I was searching for. I wanted to do the whole thing and not the 'little brother' of a bigger distance. My heart said, 'Let's do the full Ironman.'"
Frommhold laughs now when he considers how ill-prepared he was for such a challenge. He chose Ironman Arizona to ride a time-trial bike for the first time in his life; a machine he bought from his coach, and raced without a single change to the set up.
"It was the same thing with hydration!" he continues, warming to his theme. "I bought the stuff the day before the race - I didn't think about it! Now five years later, I'm testing in the wind tunnel, and on the track.
"Endura made a very aerodynamic race suit, and I think about where I can save watts, how to improve my hydration, whether it's better for me to run at this pace, or that pace - it's a totally new thing. I've made a lot of steps, and the last ones are always the hardest."
NICE GUYS FINISH FIRST
The anecdote reveals as much about Frommhold's personality as his increasing standards. He is a genuine and likeable person; the antithesis of the data obsessive I'd feared meeting. Reserved at the breakfast table and at lunch, during our interview later in the afternoon he relaxes and opens up, reversing the usual course of events, where the subject usually retreats in the face of the recorder.
When he talks about the feeling of winning his first Ironman triathlon, the pleasure seems to come flooding back. He smiles, shakes his head, and describes the experience as "crazy", seemingly as bewildered as you or I might be by such an achievement, rather than a world class athlete delivering on the promise of 12 weeks of intense preparation.
"It was totally crazy, because I didn't expect it, and very emotional because of the ups and downs with the injury," he says, still smiling. "It was so crazy. I didn't sleep for the whole night afterwards!"
He has come along way, notably via victories at Ironman South Africa in 2014 and sixth place at Kona the same year. He will start among the favorites for this year's Challenge Roth. Success brings rewards, but also expectations. The days when he could race on his coach's old bike, or buy his hydration products on the eve of the competition, are gone.
Frommhold is gracious enough to apportion a large part of his new found professionalism to the team that has coalesced around him: his wife, who handles PR duties, an old friend who has become his de facto manager, and, of course, Endura.
"I'm really pleased that I have a big team behind me. I trust Endura, that they have made a fast and competitive suit for me. I trust my coach, that he has created the right plan and has analysed my numbers and created the correct tactics for the race, and I trust Canyon that I have a competitive bike for all conditions. It's a big package and I'm only one component."
Such humility is refreshing. The team aspect is often overlooked in a sport where the athlete competes alone, but a dedicated group of people lies behind a successful athlete in almost any sport. Frommhold has the added advantage of family support.
Six months ago, Team Frommhold welcomed a new member: baby Louisa. Like her father, she is a placid figure at meal times, but it's easy to see how central she is to his continued motivation. She sleeps during breakfast, but her wakefulness at lunch gives us a glimpse of Frommhold the doting dad.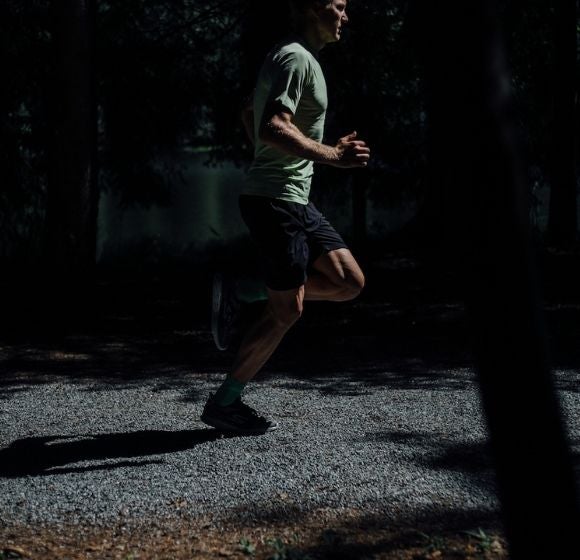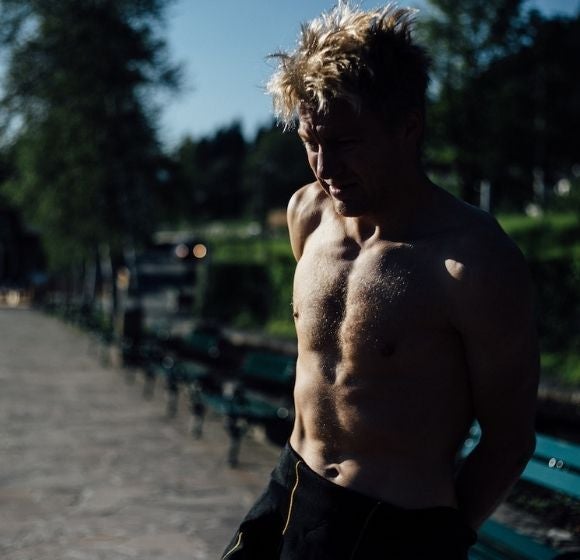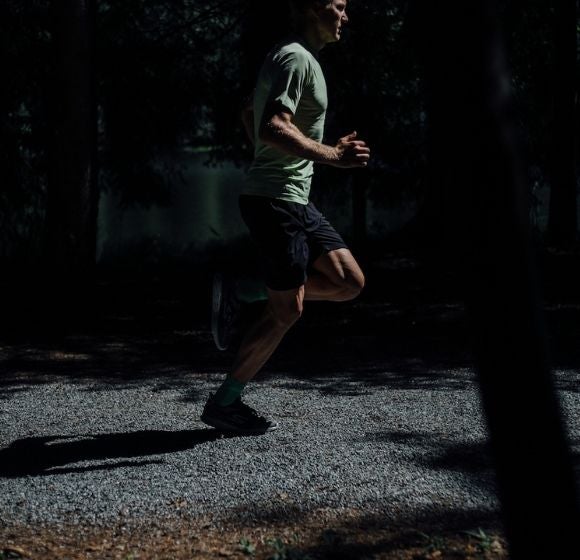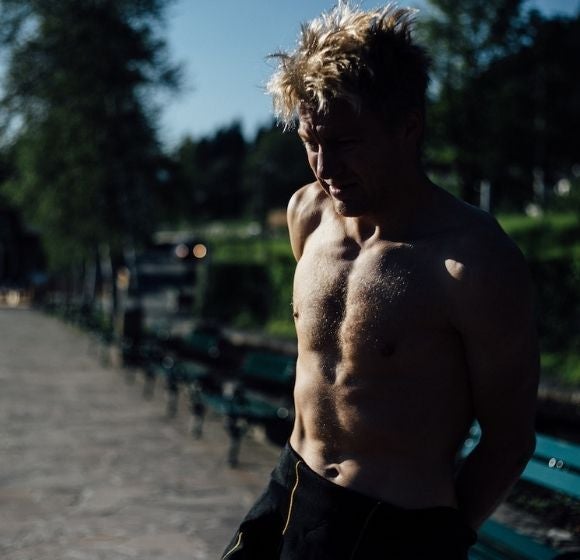 THE KONA PUZZLE
Frommhold does not attempt to hide from the mental challenge of a sporting event in which finishing in less than eight hours is considered fast. The phrase 'ultra-distance' is a clue to the scale of the challenge. Positive thinking is as critical as physical preparation.
"Oh, it's rollercoaster,' he says, providing a plain and unvarnished summary of the emotional trials a competitor must undergo.
"The guy who handles a bad situation better is the winner in an Ironman. Everyone has a lot of ups and downs. When you start an Ironman, it's not that you're thinking, 'I have to swim 3.8km, and then do a 180km bike ride, and then run a marathon.' It's more like: 'Let's see the next buoy. That's my next goal.'
"So it's not eight hours, it's more like 10-minute challenges. You talk to yourself. It's very important to be positive."
He offers an example that would give any elite triathlete shivers: missing 'the Kona train'. He describes dropping from the back of a line of 25 riders within the first 30 minutes of a bike split that will last for more than four hours, and then running for nearly three.
"When you lose contact in the first half-an-hour, then it's very difficult to think positively, because you have to race more than six hours in that situation. The front guys are away and the race in your head starts."
The old cycling maxim - la tête et les jambes - is equally true in triathlon, Frommhold confirms, and still more so on Kona. All the physical preparation in the world will count for naught if the athlete does not have a mental resilience to match.
"It's doubly important in Kona. The temperature and the winds and the situation outside the course is so complicated. Anything can happen; anything can change. There are also a lot of strong competitors. It's so important to work on the Kona puzzle."
Like every elite ultra-distance triathlete, Frommhold's dream is to win the Ironman world championship on Kona, but he is keenly aware that the Big Island offers no guarantees of success. Arriving in peak physical condition is the best that might be hoped for. After that, Kona will have its say.
"I say it's a dream to win and a goal to be on the podium, because to win, it's not just down to you. There are a lot of others, which can be better on your best days, so my goal is to be on the podium once, and of course I dream of winning it.
"My whole training and my whole way of thinking is to become better on that day. I think I have eight to 10 more chances there, so it's not important for me to have the best day there this year, but i want to come step-by-step closer to that goal."
We return to mental strength. Can it be learned, or is it at an indefinable quality that one either has or has not?
"I did a lot of work with a mental coach, five years ago. I learned some techniques to work with, but on race day it's a totally different thing. It's very, very important to be calm, to be positive, to be patient. That fits me. When you do eight hours of sport, it's really important to be calm and patient.
TEAM FROMMHOLD
Frommhold is a pleasure to talk to. Talented, successful and possessed of the determination to overcome career-threatening injury, he is nonetheless gracious, humble, good natured and amusing. When he discusses his punishing training regime, and the incredible feat of completing an Ironman triathlon in less than eight hours, he is unassuming.
"In summary, I have any strength, and the positivity to say, I have any weakness," he says, with admirable frankness. "My swim is good, my bike is good, my run is good, and in the end, I win races with a good combination of two or three disciplines.
"Normally, when I perform well, I'm the fastest runner of the strong bikers," he continues, before pausing. The smile returns. "Can I say it that way?".
One suspects that Frommhold is a significant weapon in the arsenal of a still developing sport; the perfect riposte to the old joke about triathletes at dinner parties (How do you know if you're sat next to a triathlete? He'll tell you). Frommhold, one suspects, would reveal his occupation only on pain of death, despite - and perhaps even because of - his elite status in such a demanding sport. Modesty becomes him.
He has embraced fatherhood, and sees himself as only one part of a wider team. He is totally transparent and disarmingly funny (when we discuss his move to Freiburg, he admits he knew nothing of the city, only that it is "...near the Black Forest, and, as a football fan, it was the away game with the furthest distance to travel from Berlin").
Team Frommhold is one that Endura is proud to be a part of. Association with a successful athlete makes obvious commercial sense; association with such a likeable personality is an added bonus.
FOOTNOTES
Words by Timothy John. Images by Sean Hardy
© 2021 ENDURA