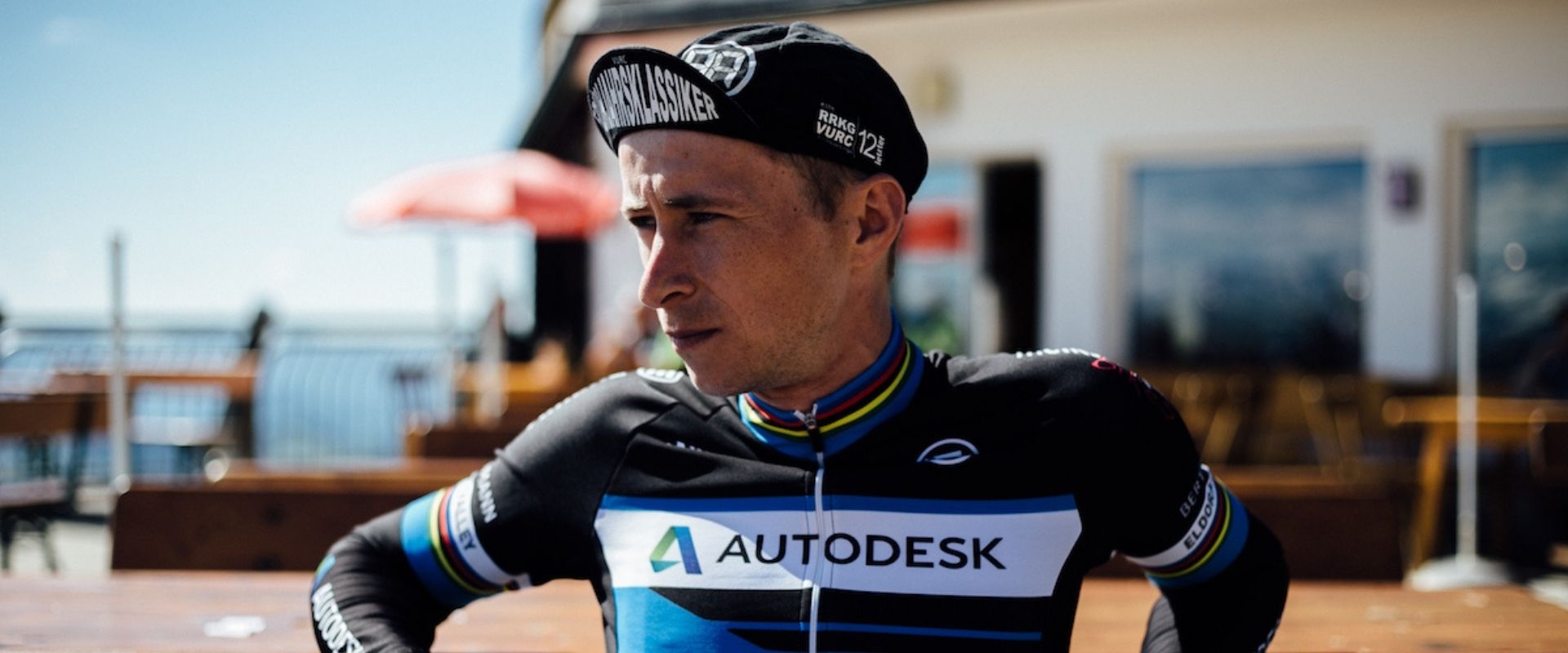 LUKAS KIENREICH
Endura's ultra distance cyclist
CYCLIST FOR LIFE
Lukas Kienreich reclines against a table on the terrace of the Alpenhaus, close to the summit of Austria's mighty Kitzbühler Horn.
With the peak upturned on his club cap (not hat), and clad in the borrowed jersey of Paralympian Denise Schindler, another of Endura's guests in Kitzbühel, Kienreich embodies the renegade Scots' philosophy, All Tribes, One Clan.
He has earned the rest at this most picturesque of coffee stops, close to the near-2000m summit of the signature peak of the Kitzbühel Alps, even if stopping is far removed from his normal practice.
"It's a lifestyle thing. I'm a cyclist 24 hours-a-day, seven days-a-week..."
"I think it's cool to ride through the night. In ultra distance races, you're allowed to ride at night on the Großglockner. In the Race Across The Alps, you can ride eleven Alpine passes in a row, and at night too. How else can you do that?".
He has already finished fourth this year at the Race Across The Alps, ticking off a bucket full of bucket list climbs, including the Stelvio Pass, the Umbrail Pass, the Gavia, the Mortirolo and the Aprica, in 22 hours and 23 minutes.
But Kienreich does not define himself as an ultra distance cyclist, despite last year winning the 2,200km Race Around Austria with training partner Severin Zotter, and who this year will tackle its brutal 30,000m of climbing alone, racing as a solo competitor.
Neither does he define himself as cycle messenger, even if for the last four years it has been his full-time occupation, delivering medical supplies by bike from 7am to 7pm in the Austrian city of Graz.
One suspects he finds such distinctions irrelevant; the type of riding, immaterial. He does not suddenly stop being a cyclist on those rare days when he is not on the bike.
"It's a lifestyle thing," he shrugs, conspicuous in his lycra, now that we have returned to the luxurious hotel in Kitzbühel to which Endura has invited its elite athletes from Austria, Germany and Switzerland. "I'm a cyclist 24 hours-a-day, seven days-a-week."
GET THE MESSAGE
When Kienreich moved to Graz from Vienna four years ago, he had no intention of earning a living as a cycle messenger, never mind racing a bike for thousands of kilometres.
He had worked as a painter and decorator in the Austrian capital and moved South to Styria with his girlfriend, when she had finished her degree studies. After taking a job in a factory making car components ("doing the same thing 4,500 times"), a chance meeting with riders on the messenger scene prompted a swift career change.
At first glance, there is little that unites the cycle courier and the ultra distance racer. One plies his trade in an urban environment, and depends heavily on bike handling skills to stay alive. The other can be found in the high mountains of Europe, or on the arrow-straight highways of North America, the latter - tragically - often as dangerous an environment as the inner city.
"I think it's cool to ride through the night. In ultra distance races, you're allowed to ride at night on the Großglockner."
Kienreich however is quick to list the similarities. The requirement to ride whatever the weather, to eat on the bike, and the necessity of renewed motivation when energy levels drop, are all factors shared by the messenger in the midst of a 12-hour shift and the 24-hour racer.
He combines a rigorous training regime with an equally demanding work schedule. Mondays are spent away from the bike, in work and training: an office day, spent in the role of despatcher, ordering jobs for his colleagues, ends with an off-the-bike workout.
Tuesdays and Wednesdays begin with a breakfast of noodles at 6am, before he rides out on his first job at 7am, finishing twelve hours later. Thursday brings a day off, followed by hard training on Friday, Saturday and Sunday. The weekends are particularly tough: training rides of between four and six hours.
The miles accrued from the day job are sufficient only to reach a certain level as an ultra distance cyclist, he says. Interval training is required as well as the daily grind of life in the saddle as a cycle messenger, if a rider is to make it in the none-more-demanding world of round-the-clock racing.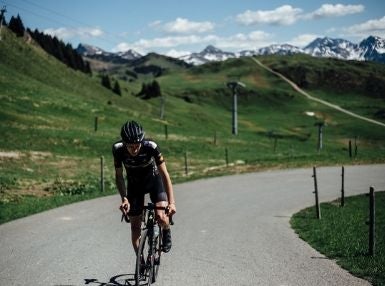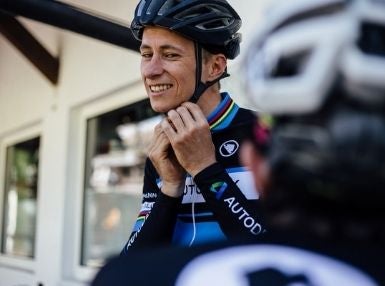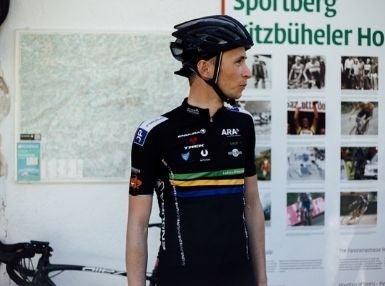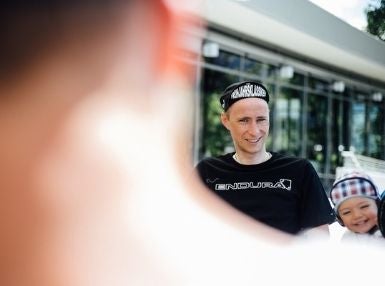 THE RACE AROUND AUSTRIA
It's important to note that Kienreich was a messenger in the first instance, who became a competitive cyclist under the influence of his colleagues. Indeed, he struck up a friendship with Severin Zotter through their shared occupation. Their camaraderie has survived the latter's success (Zotter won the 2015 Race Across America) and career change (he became a social worker, and is now a full-time father), and has blossomed into a formidable riding partnership.
Last year, they won the Race Around Austria, competing as a duo, swapping 20-minute stints on the bike with recovery sessions of the same length in the support car. The schedule, reduced early in the race from 30 minutes in the face of appalling weather, brought them a handsome victory.
"In the Race Across The Alps, you can ride eleven Alpine passes in a row, and at night too. How else can you do that?"
The Race Around Austria is a supported race (distinct from unsupported events like the TransAmerica and Transcontinental) and Kienreich and Zotter had two vehicles in their service, one piloted by Martin Orthacker, Zotter's crew chief from his successful Race Across America bid, and the other by a qualified doctor.
Both cars (and both crews within) played their part in supporting the two exhausted riders. During the night, regulations compel the follow car to fall behind, and the pair swapped turns inside the transport car, one entering as the other left, in a tightly choreographed routine that saw bikes deployed with practiced ease.
Each rider spent his 20-minute rest period in dramatically different style. Despite the torrential rain, Zotter only changed his clothes twice, opting instead to remain in his wet kit, albeit beneath a silver insulation blanket. Kienreich pursued a wildly different approach.
"For me, it was the same routine for three days," he recalls with a grin. "I got in the car, and took off my wet clothes. That took about five minutes. Nina, our physiotherapist, would massage me for five minutes, and then I slept for three minutes. To wake up also took five minutes, and in the final minutes, I put on some clothes. Then I was on the bike again!".
20/20 VISION
The length of the stints - 20 minutes on, 20 minutes off - proved critical to maintaining their speed. Zotter recalls outputs of 260 to 270 watts in the early stints, enough for 45kph on the flat sections, where each man rode a time-trial bike. They kept the 20-minute schedule in the mountains, where road bikes were deployed, in preference to the low profile steeds they had opted to ride on the flat.
"We changed every 20 minutes, but there was no point at which I said, 'I don't want to go. He should go,'" Kienreich explains. "When I was on the bike, I wanted to change every 20 minutes; I didn't want to go for 21 minutes, or 22 minutes, but there was no situation, where one of us said, 'No, I don't want to change. He should go longer.' It's really cool if you have a team-mate who is riding as hard as he can. You know that you have to do the same."
"I was very happy when Sevi won the Race Across America - he's a superhero for me - but we are on one level, I think."
Their goal had been to beat the record for a two-man team, but appalling weather conditions closed the Großglockner, curtailing the route. Still, a highly creditable finishing time of two days, 20 hours and seven minutes gave them a comfortable victory, achieved at an average speed of 31.5kmh.
Only when weather conditions plumbed intolerable depths did they waver from their 20-minute riding/resting schedule. Torrential rain reduced their stints to just five minutes; a precaution against the resting rider from becoming too cold. In any case, the temptation not to climb out of the car must have been almost overwhelming, and offers a penetrating insight into the psyche of the ultra distance racer.
"We didn't care about the topography," Kienreich summarises. "We just changed every 20 minutes."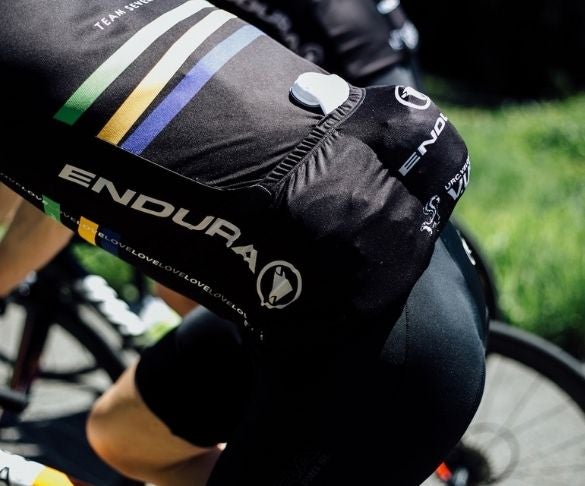 THE ZOTTER CONNECTION
If it's easy to cast Kienreich in the role of apprentice, given Zotter's greater experience and career-defining victory in the Race Across America, it's important to understand that this is not the case.
When Zotter joins us in the bar, he answers my questions first, but Kienreich is his own man, and not afraid to contradict his more accomplished team-mate. When we discuss how ultra distance racing might develop, there is a clear, if subtle difference in emphasis.
"It's really cool if you have a team-mate who is riding as hard as he can. You know that you have to do the same."
Zotter would like to see a higher profile for the discipline, to encourage greater sponsorship and with it greater opportunity for riders to tackle such mammoth events. Kienreich seems happy to celebrate the "cool community" that already exists. The fascination is the same, he argues, whether the rider is attempting the Race Around Austria as a once-in-a-lifetime endeavour, or assembling a support crew for a serious attempt at the Race Across America.
The bond between them is obvious, however. When I ask them to describe their emotions when crossing the finish line to win the Race Around Austria, their laughter is simultaneous. The welcome that awaited them in Saint Georgen at 6am was underwhelming, to put it mildly. "There was nobody in town - nothing!" Kienreich laughs. "It was a bit like, 'What are we going to do now? It's too early to celebrate.'"
To see Kienreich amusing Zotter's son Jonathan at the dinner table is to gain a level of insight into their camaraderie; to see them suffer together on the wicked gradients of the Kitzbühler Horn is to gain a deeper understanding still. They are evenly matched on the bike, and while Kienreich admires his friend's talent, he is not overawed by it.
"When we started, Sevi wasn't a Race Across America winner, and he wasn't a Tortour winner: he was a long distance cyclist. He was better than me, but we were fighting together the whole time in training. I was very happy when he won - he's a superhero for me - but we are on one level, I think. I'm very happy to have been with him in these years, when he's won all this stuff. It's amazing."
HOMECOMING KINGS
Kienreich did not travel to America with Zotter for the latter's greatest triumph, opting instead to contest the Race Across The Alps. "In the end, I missed you," Zotter admits, prompting another bout of simultaneous laughter.
"I have to say that maybe it's not the best thing, taking your training partner to races," Kienreich adds, attempting to reintroduce a note of seriousness. "It's not important to take your training partner."
"There was nobody in St Georgen at 6am when we won the Race Around Austria. It was a bit like, 'What are we going to do now? It's too early to celebrate.'"
While Zotter recovered in Annapolis, Kienreich organised a homecoming party with 100 guests, replete with a 30-rider cycle escort to flank the returning hero in his car, as he drove back into Graz.
The satisfaction of victory is another bond that unites the two men. Zotter describes the days in the immediate aftermath of his victory at the Race Across America as among the happiest of his life, and Kienreich offers a similar analysis of the period that followed their victory in St Georgen.
"After the race, we had a short sleep, and then at midday, we started to clean the buses. I was so relaxed. I think it was one of the best days of my life. The crew chief was there with his wife and two sons, and it was so cool. The race was great, but that day, with the cleaning and all that stuff - that was almost the best part."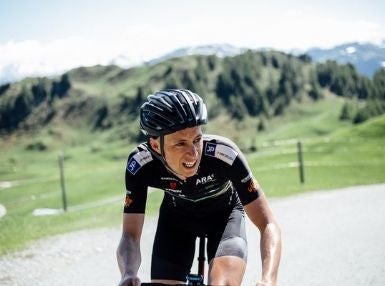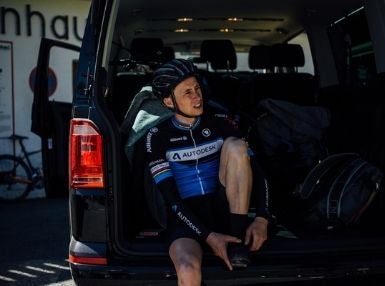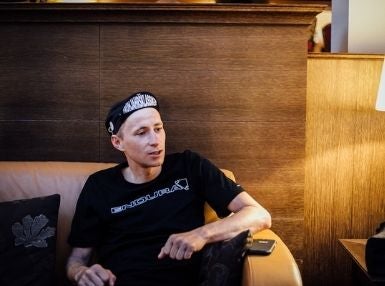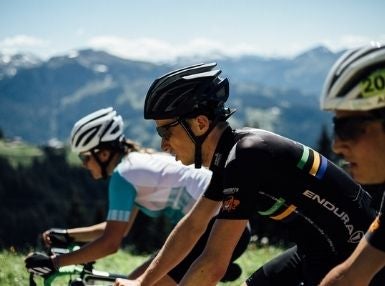 ENDURA-NCE RIDER
They are in agreement also on Endura. Zotter famously wore the first generation Pro SL Bibshort to win the Race Across America, and Kienreich reveals that Endura is his choice for messenger duties, as well as for competitive engagements.
"This year, we had a really rough winter and wearing the MT500 neoprene shoe covers, I had no problems with my feet," he confides. "The leg warmers were perfect too."
The custom WT jersey and Pro SL Bibshort II suit him well, and are his choice when speed becomes the overriding concern. Sean Hardy's images of Kienreich on the Kitzbühler Horn capture a man in his element, unafraid to leave everything on the road, however dizzying the gradient.
As the road spirals upwards towards the mountain's 1,996m apex, his eyes seem fixed upon the television transmitter that marks its summit. Staring downwards at a power meter is not for him. Kienreich's love of the work, however painful, is evident.
"Lukas embodies our All Tribes, One Clan philosophy," says Pamela Barclay, Endura's Brand Director. "Messengers played a critical role in the development of our Hummvee Short and its Hummvee Short II successor, and Lukas' dedication is a match for that shown by the riders of Movistar Team and Cervélo Bigla, whose performances in the WorldTour have shaped his custom WT Race Jersey."
The Race Around Austria beckons, and Kienreich will be equipped and well prepared. He makes little secret of the fact that cycling is his life. Now the sport has become fashionable, many are prepared to adopt the dress code on a whim, but the depth of Kienreich's commitment can be measured in the scale of the challenges he has embraced.
Victory in the team event with Zotter, his friend and training partner, has teed things up nicely for Kienreich's solo attempt. He can count on his clothing and a love of the bike that can accurately be described as all-consuming.
We return to where we began, and Kienreich's admission that, "I'm a cyclist 24 hours-a-day, seven days-a-week." Given the scale of the challenge ahead - 2,200km with 30,000m of vertical ascent - nothing less will be enough.
FOOTNOTES
Words by Timothy John. Images by Sean Hardy Kitzbuhel, Austria
© 2021 ENDURA