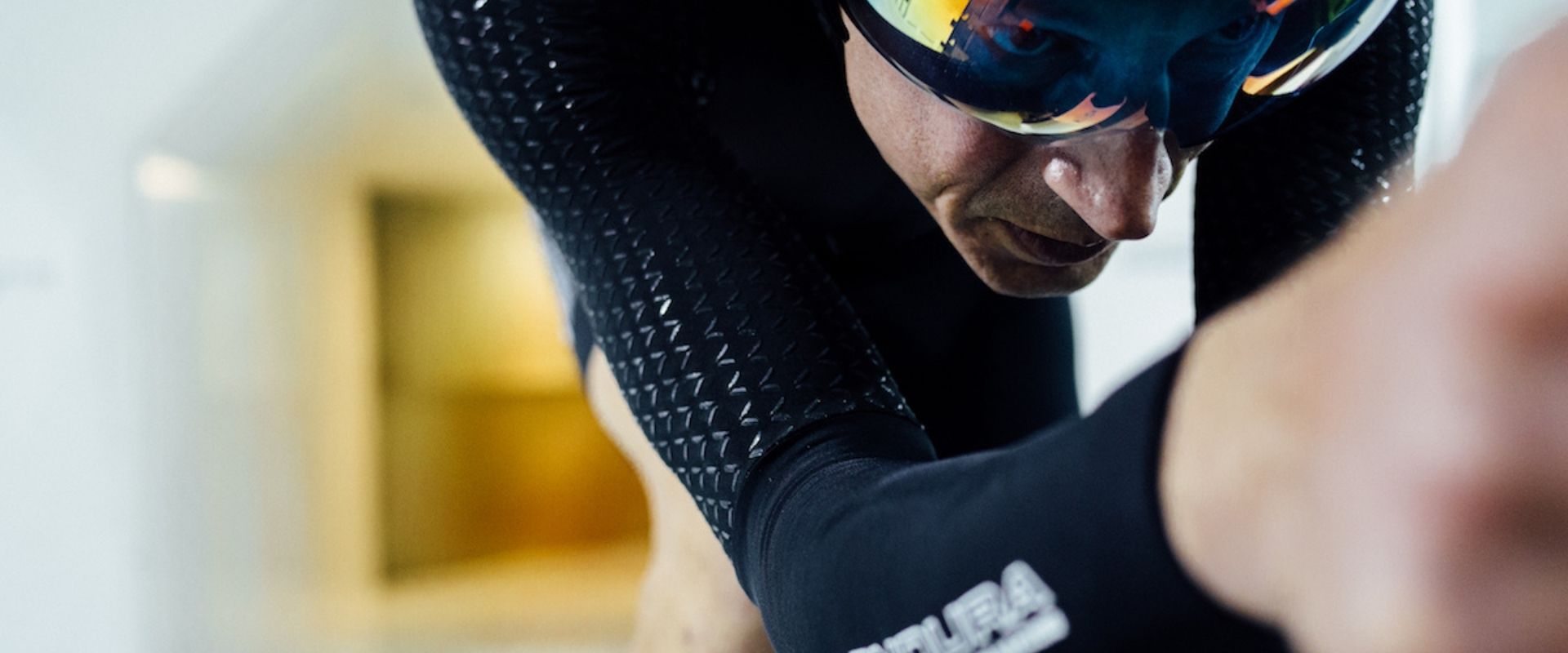 GRAEME OBREE
Athlete or genius?
REPLAYING HISTORY
Watching Graeme Obree through the windows of the control room at Mercedes F1's Wind Tunnel One inspires a moment of double take. "Replaying history," quips Simon Smart, the aerodynamicist running this particular show at the Northamptonshire headquarters of motorsport's leading constructor.
"A time warp back to 1995," adds Jim McFarlane, founder and managing director of Endura, to whom Obree, the maverick's maverick, is friend, compatriot, and personification of the brand's mantra, Renegade Progress.
"The $64,000 question is thus: will the efficiency of Endura'sclothing overcome Obree's aerodynamic disadvantage in riding a UCI-compliant machine?"
The crouched, 'mantis' position, and homemade bicycle, together so unmistakably aerodynamic that Obree's intuitive genius is obvious even from a distance of 50ft, seems at once perfectly placed in this most sophisticated engineering environment, and utterly at odds with it. It is pure Obree, and pure Endura. Both have claimed the World Hour Record. Twice.
Obree knows more than a little about cycling's ultimate test, having etched his name, in 1993 and 1994, alongside those of Anquetil, Coppi, and Merckx. Twice, he was crowned World Champion in the individual pursuit, and twice his positions were banned. Free radicals like Obree tend not to be welcomed by the establishment.
The 'mantis' position, arguably the most iconic in all of cycling, is only one test in a long day that will live forever in the memories of those lucky enough to attend. The 'Superman' position will also fall under Smart's enormous microscope. And then, finally, Obree will swap his period Fullarton Wheelers kit for the latest iteration of Endura's D2Z Encapsulator suit, don the new Endura D2Z Aeroswitch helmet, and climb aboard a modern, UCI-compliant time-trial bike.
The $64,000 question is thus: will the efficiency of Endura's clothing overcome the aerodynamic disadvantage to Obree of riding a UCI-compliant machine, rather than a freshly made version of Old Faithful, in the 'mantis' or 'Superman' positions?
There is no purpose to the test; not in commercial terms, at least. Mere curiosity lies behind this exercise, one guaranteed to enthral any cycling fan, even though it is not idle (Obree is in remarkable condition for a man of 52) and, like anything that involves the facilities of a Formula One team, not without cost.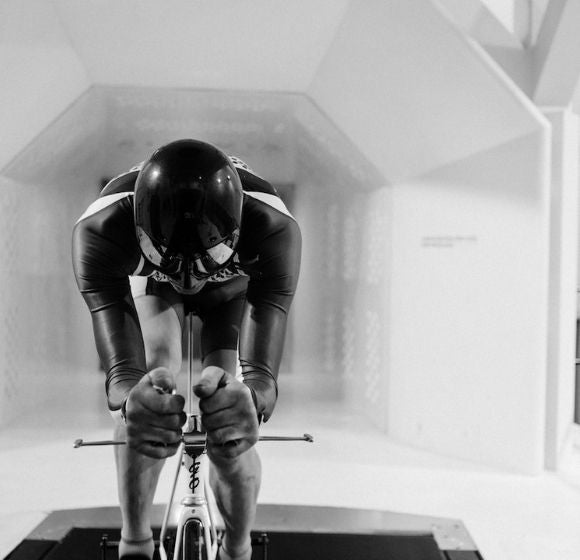 THE SEARCH FOR TRUTH
The debate that surrounds Graeme Obree and his astonishing achievements has fascinated cyclists for decades. Was he an innovative genius? A world class athlete? Both? Or neither?
Obree is universally admired, and, in recent years, given the scale of the personal challenges he has overcome, held in huge public affection, but the questions surrounding his competitive advantage for the two World Hour Records and two World Championships he claimed in the 1990s, remain.
"To some extent, as one of the bigger brands, we have a responsibility to do interesting stuff, just for the heck of doing interesting stuff, without saying: 'And we justified it with a spreadsheet...'" Jim McFarlane
No one has been more fascinated by the question than McFarlane, who has admired Obree since the days in which their names would appear together on the start sheet of the Blair Drummond '10', even if he is clear that the phrase 'competitor' is entirely inaccurate.
"We shared the same piece of tarmac from time-to-time," he says, laughing. "At various times, I was passed by Graeme at great speed. When someone passes you at that speed, you lose the will to even try. There's definitely a pause while you absorb!".
Obree's radical positions are wonderfully intuitive. His handcrafted machinery suggests a genius for engineering, and an innate understanding of aerodynamics, even if one of the many astonishing revelations of this day in Brackley is that it represents Obree's first visit to a wind tunnel. "My wind tunnel was the A77 on the West Coast of Scotland," he grins. "That feels fast!".
Fittingly, Endura is facilitator of this search for truth. The brand has grown to be a major player and is now of a scale where such exercises are an opportunity to give something back to the sport, and specifically to the time-trial culture in which McFarlane first immersed himself as a cyclist.
"This personally means something to me," he explains, "but I also think as a brand, rather than the Monday to Friday of doing sensible things all the time, it's nice to do stuff that's just interesting to do.
"To some extent, as one of the bigger brands out there, we kind of have a responsibility to do some interesting stuff, just for the heck of doing interesting stuff, without saying: 'And we justified it because this spreadsheet shows whatever…'".
PLUS ÇA CHANGE
Graeme Obree places what appears to be a purple bed sheet on one of the perfectly levelled, stone engineering benches belonging to the Mercedes F1 team, and carefully unfolds it to reveal a bicycle frame. It's one he'd made years earlier, and which has been returned on loan by an admirer who bought it at auction. Obree continues with the business of unpacking, while Smart and McFarlane stand enraptured by its beauty. Worlds are colliding.
"'Some crazed obsessive has built this,' Obree says, shooting a wicked grin in our direction. To describe his wit merely as dry or self-deprecating is an injustice."
It's a UCI-compliant design, one Obree used in the days when smashing British time-trial records was almost a matter of routine, and which today will be used to establish an aerodynamic baseline. The highly-polished chainset is the proverbial dinner plate, painful even for an average cyclist to glance at, while the exquisitely crafted, and equally polished seat post has the dimensions of a knife blade, and perhaps the sharpness too.
There follows a moment that is pure Obree and pure cycling. Our man attempts to fit the rear wheel, but finds that there is insufficient clearance between the tyre and the back of the seat tube. "Some crazed obsessive has built this," he says, shooting a wicked grin in our direction. To describe Obree's wit merely as dry or self-deprecating is an injustice.
(The day is littered with further examples, such as when he pulls his original socks from his kit bag - "I've kept these for 25 years, which either makes me the ultimate professional, having waited for this moment, or a sad git" - or in the telling of priceless anecdotes, such as aiming his bike directly at then-UCI President Hein Verbruggen, in a qualifying round of the 1994 UCI Track World Championships in Italy).
Smart emerges from the control room, immediately identifies the tyre diameter as the source of the problem, and "nips home" to fetch one of his own. By now, Obree and Smart might as well be two school friends in a garage, rather than a brilliant engineer and a double world champion, even if the testing and riding that follows reveals both as masters of their art. In some vital part, cycling will always remain cycling, and wonderfully so, however sophisticated it has grown. Plus ça change.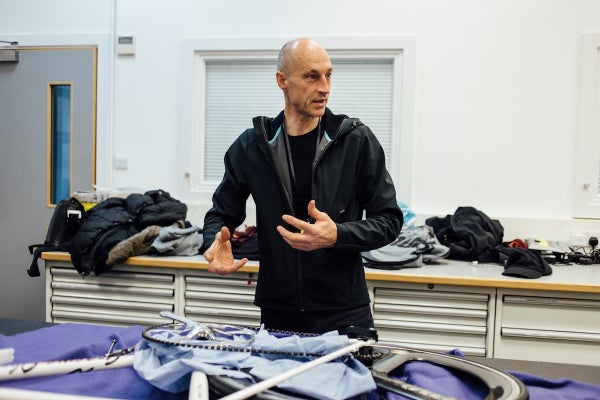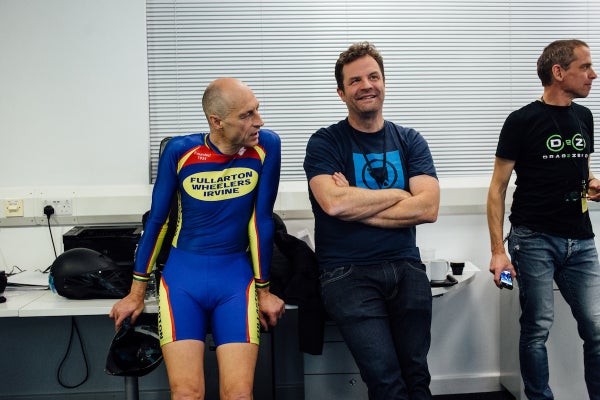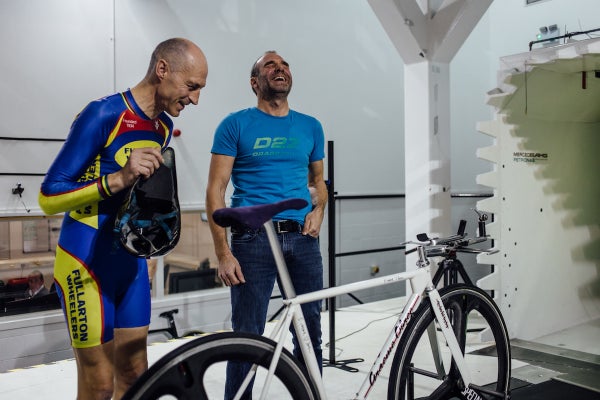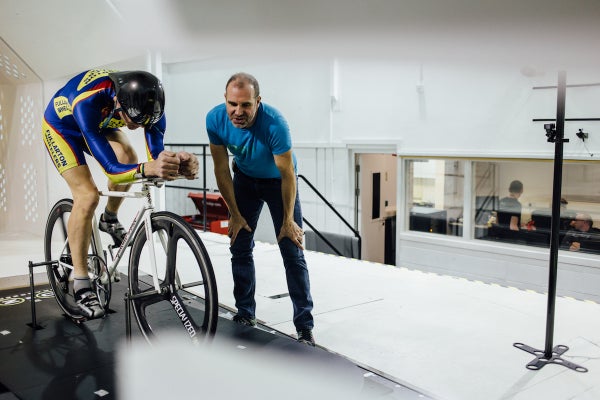 CROUCHING GRAEME
After a baseline has been established with Obree's hand built, but still UCI-compliant time-trial bike, a second phase of testing begins, this time on Old Faithful. He rides in the 'mantis' position; a radical, crouched style that he created as long ago as 1987, riding time-trials on a road bike with the handlebars upturned, and which he "never changed, until the UCI threw a brick in my pond."
He had overcome, by natural flexibility, a regulation stipulating that the tip of the saddle must be 5cm ahead of the bottom bracket, and is incredulous even now when he recalls the UCI's first attempt to stop him using it.
"There is an unmistakable sense of witnessing a thing imagined or remembered suddenly made real, akin to a famous actor sitting down beside you as the film rolls..."
At the 1994 world championships in Italy, the UCI stationed an official on each corner of the track, instructed to wave a red flag, if they could no longer see daylight between Obree's shoulder and his hand; a poor way to treat the rider who had come to defend his title in the men's individual prusuit.
There are no flag-waving officials in the wind tunnel. Obree works alone, intently. His concentration can be felt through the glass of the control room window. There is an unmistakable sense of witnessing something imagined or remembered made real, akin to a famous actor sitting down beside you in the cinema as the film rolls, or the images in an old magazine brought suddenly to life.
The test finished, Obree enters the control room, announcing that comparison with the UCI-compliant benchmark will confirm him either as a genius or a great athlete, but not both. He delivers this unflinching summary with a smile, but is unable to hide his concern. Earlier, he had told Smart that he would leave something in the tunnel; an oblique reference to the mystique that has surrounded his achievements.
Smart breaks the tension by announcing the result: had Obree ridden the 'baseline' bike in Bordeaux, he would have had to produce 410w for the hour to match his 52.713km. On Old Faithful, riding in the 'mantis' position, he needed 'only' 350w. The 'mantis' position is 60w faster.
"Bloody hell!" Obree says, genuinely surprised, and now seemingly not so disconsolate.
"So you're a genius!" Smart bellows, laughing, and catching the rising mood. "To hold 350w in that position is still pretty impressive. It's all about efficiency at the end of the day. You're an efficient genius!".
AYRSHIRE SUPERMAN
It's almost impossible to discuss Obree's career without also mentioning Chris Boardman. Together, they represented the alpha and omega of British time-trialing and pursuiting in the 1990s.
At first glance, the pair seemed total opposites - Obree, the maverick outsider, competing on homemade machinery; Boardman, the federation's golden boy, equipped with the latest technology - but their mental strength and willingness to embrace ever more exotic riding positions has bred a lasting respect.
"The visual effect of the 'Superman' position is no less extraordinary than the 'mantis'. It's impossible to look away from Obree as he pedals..."
Obree now reflects positively on the challenge presented by the UCI's determination to ban the 'mantis' position.
"I had to wait for adversity. Is there something I'm not doing now because of lack of adversity? It's got me thinking about my whole life, how I interact. Do I stay the same until something forces me to change?".
It forced him to consider other positions, including Boardman's ultra low, squirrel-like pose.
"I looked at Boardman. Remember, I'd been riding 'mantis' since 1987. I'd never ridden tri bars. I looked at that crouched, 'squirrel' position, but it just didn't feel right, because it's an extreme pedalling action. I thought, 'Right that's an extreme, what's another extreme?'.
"They [Boardman and coach Peter Keen] must have stood on the edge of the envelope, on the edge of logic. Logically, [the 'squirrel' position] is out there, and I thought, 'That's ridiculous'. But I was obliged to go to the extreme first. And that's how the 'Superman' came. It started on the extreme of the envelope."
Soon, he is in position. Old Faithful's handlebars have been swapped and Obree is "locked in", relishing the stability of the 'Superman' position; the long arc from neck to coccyx, and the kicking back against the pedals afforded by such a rock-solid stance. The visual effect is no less extraordinary than the 'mantis' position. It's impossible to look away as he pedals.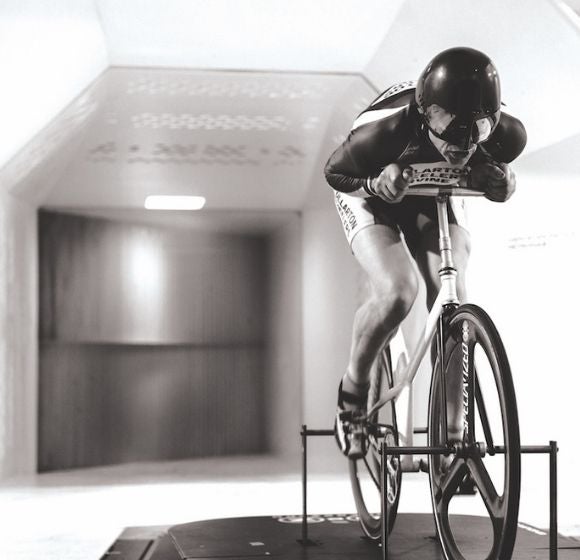 QUICK, QUICK...SLOW
The outcome leaves Obree stunned. The Superman position is a little more than 50w 'slower' than the 'mantis', with a CdA of 0.200. Smart is convinced that by the standards of the day, the position could be considered efficient. Boardman used it in Manchester on September 6, 1996 to set a new Hour Record of 56.375km, an astonishing distance, even if insiders believe his position was so efficient, he required 'only' 400w to achieve it.
"It took me half-an-hour in my garage one afternoon to get the 'Superman' position, so anyone who wished to do the same could have done so."Graeme Obree
It is a position too in which Obree won his second world individual pursuit title, in Colombia in 1995. He is clearly baffled by its apparent inefficiency, when compared to the 'mantis'. Smart wonders if Obree's arms were wider apart on the handlebars created for the test session, than those he had used to such superb effect 22 years earlier? The rider believes not. Still, it is eight watts faster than the baseline established on his UCI compliant time-trial bike.
"It's slightly more efficient, but slightly is enough to win the World Championship," Obree reflects. "I mean, I won that World Championship by just a smidgen over a smidgen."
Obree's debut with his new position was inauspicious: lapped by Rob Hayles at Herne Hill Velodrome. Having ridden himself into peak condition, Obree took it to the first round of the UCI Track World Cup, held that year in Athens, and was immediately effective. At the end of the year, riding in the UCI Track World Championships, he won a second rainbow jersey. He remains astonished that no one who saw him in Athens saw fit to copy the position - no one British, at least.
"It took me half-an-hour one afternoon in my garage to get that position, so anyone who wished to do the same could have done so. In Athens, I was like: 'Here I am. I'm going quick, and you've got all season to go into your garage and make a big stem.' And then I went to Colombia and I won the world championships.
"The foreigners copied me; the Continentals. But everyone in Britain was like: 'Oh, it's just Graeme and his weird thing.' But the Italians won six gold medals like that, including [Andrea] Colonelli, and the Spanish, and others as well. Six medals, and Chris's Hour Record, and Chris won the World Championship as well, and then they banned it. It was gone."
NEXT GENERATION
By the time Obree re-enters the tunnel to climb aboard a Scott Plasma road time-trial bike, those assembled in the control room should be used to startling visions, but the bringing to life of his iconic riding positions offers little preparation for the sight of him on a modern, UCI-compliant machine.
His appearance is still more striking. He wears a final prototype of Endura's D2Z Encapsulator suit, the Livingston marque's new and impossibly sleek D2Z Aeroswitch helmet…and shoe and sock combination that belongs, in the most literal sense, to another age. It is pure Obree, and in the very best sense, for he looks far more at home in the ultra-modern garb than in his ancient footwear.
"Obree wears a final prototype of Endura's D2Z Encapsulator suit, the new and impossibly sleek D2Z Aeroswitch helmet…and a shoe and sock combination that belongs, in the most literal sense, to another age."
He remains close to his competitive weight of 25 years previously ("a svelte 72kg or 73kg. In 1992, I was 72kg") and, when he begins to pedal, after a brief coaching session from Smart, looks the part. Little wonder then that when Smart suggests a crack at the masters Hour Record, he seems to be only half-joking. The rider after all has demonstrated the truth of the adage concerning form and class; the transitory nature of the former, and the permanence of the latter.
The Plasma is not entirely the right machine for the job, given that it is a road time-trial bike, equipped with turbulence-generating cassette and rear derailleur. Such is the precision of Smart's equipment that the presence of gears is enough to muddy the waters, and to place the performance of the D2Z Encapsulator suit in a slightly unflattering light, even if the ultimate relation of the UCI position to the 'mantis' and 'Superman' remains accurate.
In any instance, Obree's prediction that this final position would sit somewhere between the efficiency of his own creations proves accurate. Smart records a CdA of 0.185 for Obree's position on the Plasma, and is confident that even by working for a couple of hours, could reduce this further. Obree would have been required to produce 354w for an hour to match his record in Bordeaux; more than in the 'mantis' position, but fewer than with the 'Superman'.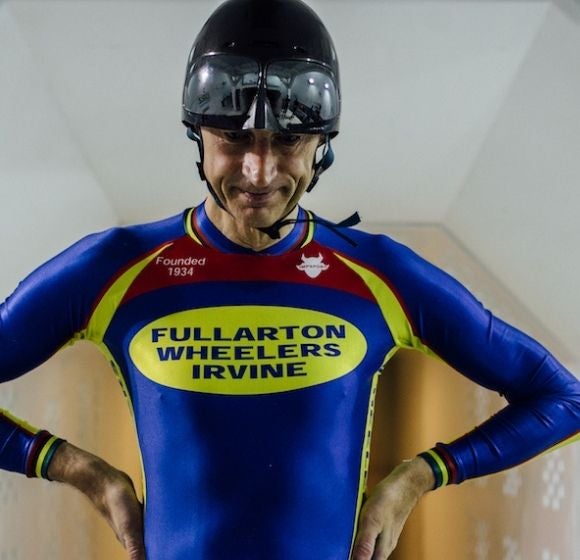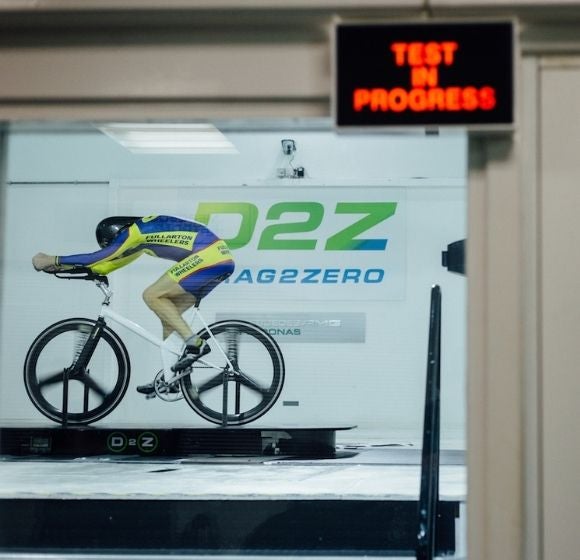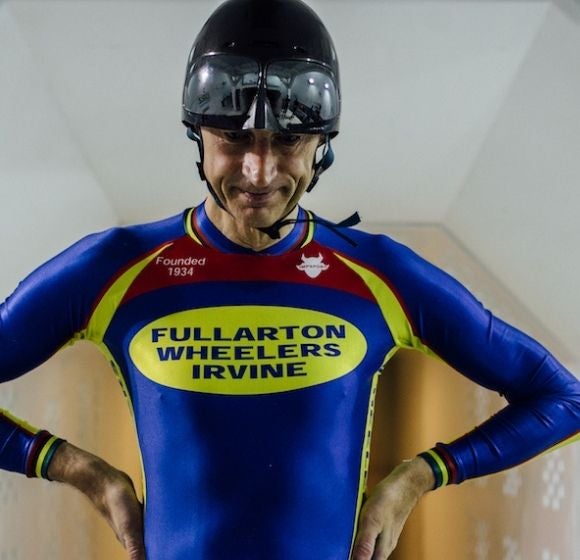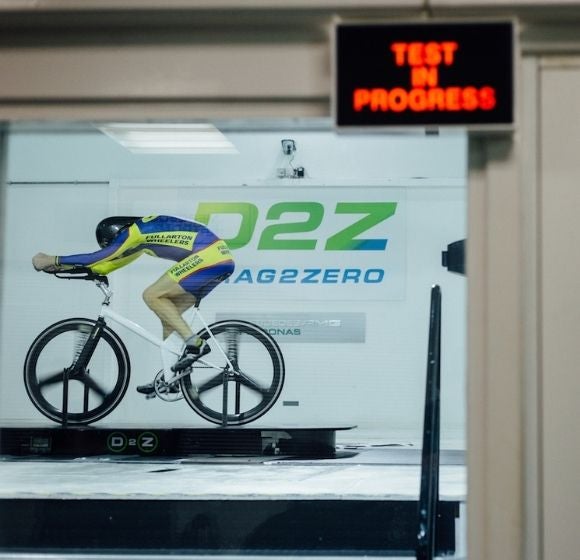 A BEAUTIFUL MOMENT
As the day draws to a close, there is time still for a moment of quiet beauty. Obree remains in his D2Z Encapsulator suit, his testing on the Scott Plasma complete, and is soon lost in conversation with Vittoria Bussi, a rider with her heart set on the Women's Hour Record, and with a personal story almost as compelling as his own.
Studying for a PhD in Pure Mathematics at Oxford University, Bussi discovered cycling in 2013. Within a year, she was racing for a squad competing at the highest level of the women's sport. Three years after that, she was lapping the track at Aguascalientes, Mexico, in a self-funded attempt at the Women's Hour Record. Endura provided an Encapsulator suit, an Aeroswitch helmet, and funded Smart's presence in South America as a consultant.
"Bussi's admiration is obvious. If anyone has shown how it might be possible to overcome adversity and still claim the Hour Record, it is Obree."
Her attempt fell just short; the result of an extreme riding position and minor illness, and she is now desperate to make a second attempt, even if she and husband Rocco exhausted their savings with the first. Her admiration is obvious. If anyone has shown how it might be possible to overcome adversity and still claim the Hour Record, it is Obree.
That he should be equally absorbed by the conversation, sharing his experiences and offering advice, even on a day that has presented a remarkable closing chapter to his own endeavours in cycling's ultimate test, speaks volumes for the man. Little wonder that he inspires such affection.
McFarlane considers Obree a friend, and the relationship he has fostered with a rider who personifies Endura's mantra of Renegade Progress is clearly one in which he takes considerable pride. Obree is encouraged to come up with "long shots" on Endura's behalf; ideas that may or may not become products. He is respected, rewarded, and placed under no pressure. He at last has a commercial partner that cherishes his contribution, rather than seeks to exploit him.
The question concerning Obree's ultimate ability has been answered. Others might have produced more watts, notably the behemoth Indurain, but none matched his innovative genius.
Smart has had other Hour Record holders in the tunnel at Mercedes F1's global headquarters, but as he excitedly proffers a pen and thrusts his copy of The Flying Scotsman into Obree's hands, it is easy to identify his most inspirational client. Smart is not typically in the business of autograph hunting.
"I think that Graeme probably had mixed feelings [about the wind tunnel tests], because he maybe thought it was a no-win situation," Smart reflects. "I expect he thinks that people believe he was an engineer, and not a great cyclist. But to do what he did, you've still got to be both."
No further questions.
Footnotes Words by Timothy John. Images by Sean Hardy Brackley, UK
© 2021 ENDURA