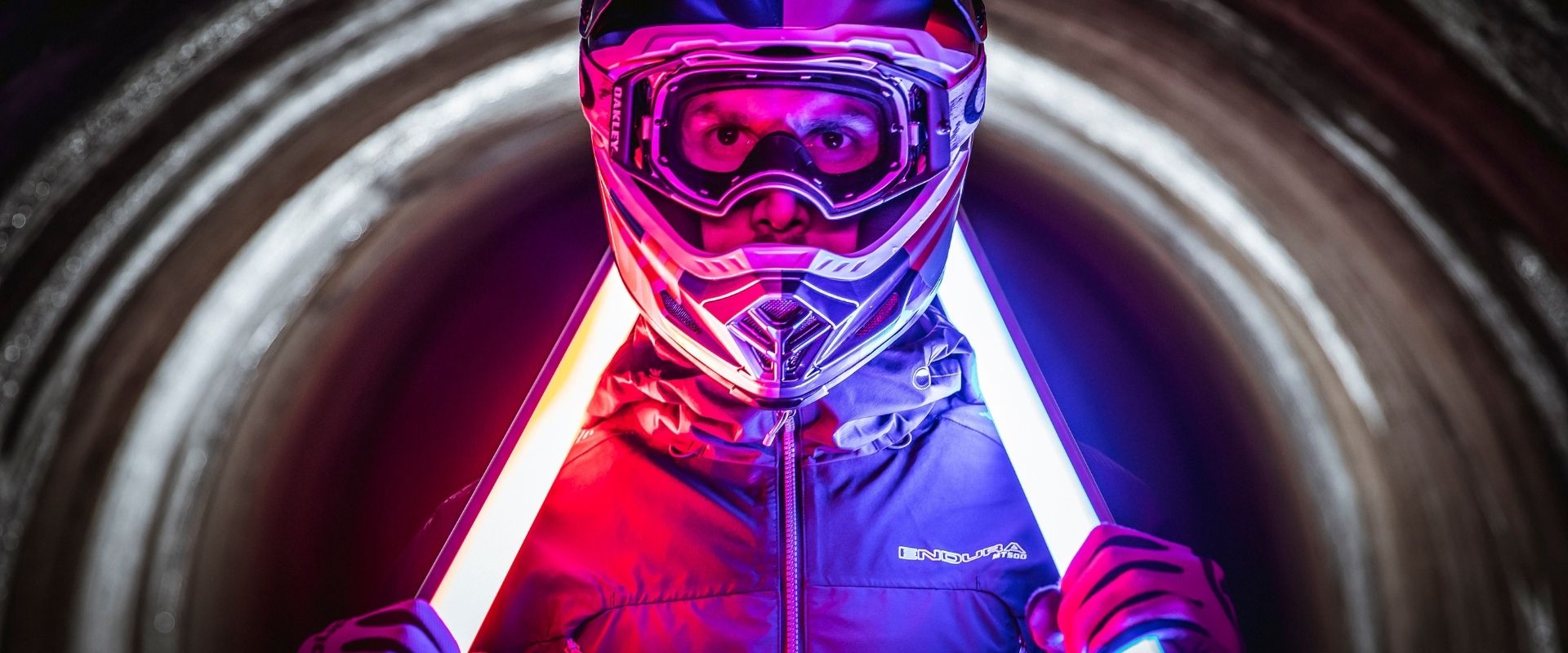 GEE ATHERTON
#ForceForGood
I've been searching for a theme to start this piece on double World Champion and 9 time World Cup winner Gee Atherton for hours now. There's the obvious route. He's one of the most successful downhill riders of a generation, a rider with podiums at Red Bull Rampage events and the middle of the indefatigable Atherton siblings, with elder brother Dan, and younger sister Rachel. That part of his story tells itself.
Yet, it's 2020, and things are different. We're in the grips of a pandemic and a climate crisis. There's been no international downhill racing this year. No one knows what 2021 will bring.

For racers, their entire vocation has been upended, their world shrunk as societies battle multiple challenges and travel bans dominate the headlines.
Herein lies the paradigm of being a world class racer. Behind the travel, glitz and glamour, a racer's life is often constrained in its outlook; mental energy revolves around spatially small areas, often less than 2 meters wide and under 3km in length.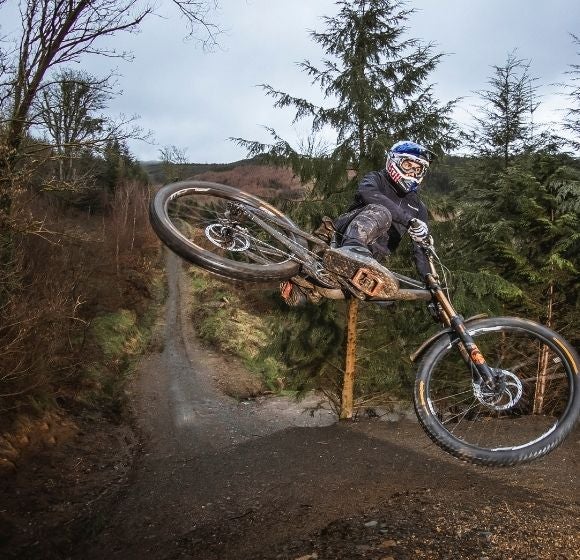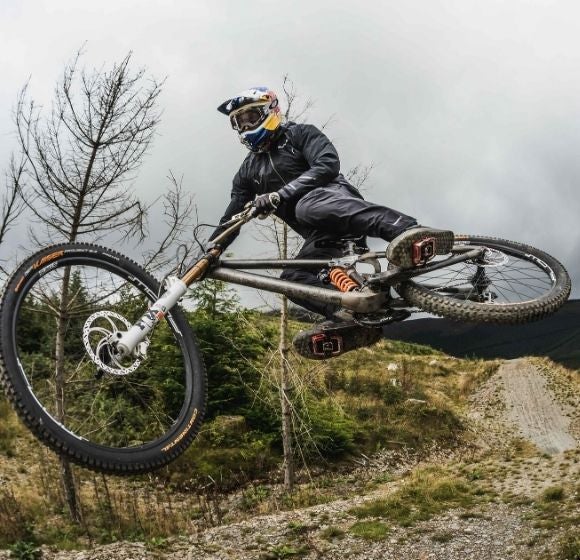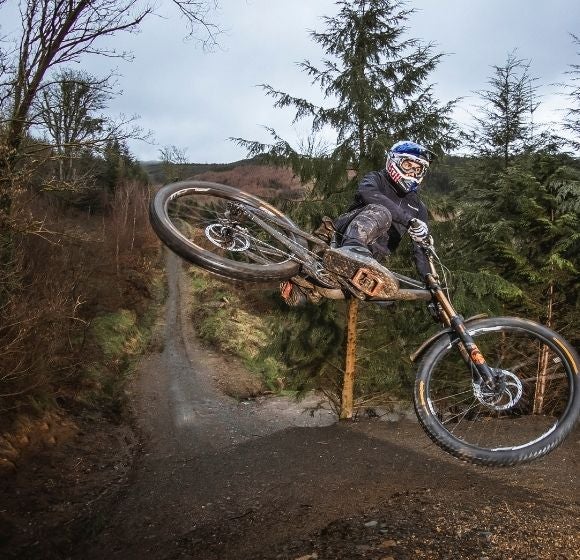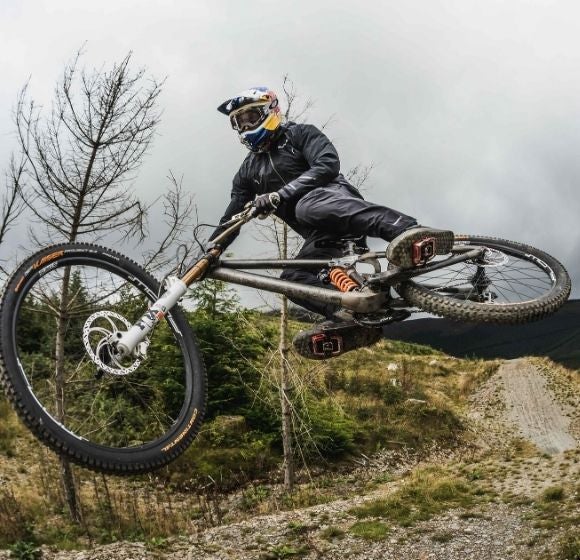 What these strips of dirt lack in size, they make up for in complexity - roots, rocks, jumps and the piecing together of magical sequences that create the most efficient route towards the finish line possible.
The World Cup series could be an abstract reflection of our times - global destinations with similar, complex challenges to tackle at the local level.
We're here to chat bikes, but I wonder, has Covid-19 inadvertently widened top racers outlook? "It's definitely forced me to take step a back" interjects Atherton, "Racing is very cyclical by nature, and through winter I was training as hard as ever, doing what I've always done"
"It's always been very black and white - I just want to be racing."
With multiple strands to the Atherton brand - athletes, a bike park and a bike brand - there's certainly no shortage of extra-curricular projects to be getting stuck into, but for Gee "It's always been very black and white - I just want to be racing".
Went it comes to the upper echelons of sport, Gee is one of the smoothest riders on the World Cup circuit. He is well spoken, and carries a calm exterior when speaking to the media. Yet, you still get the feeling that, much like his brother Dan, there is a hidden fire in his belly waiting to be stoked.
In fact, he has actively sought out the rarefied air where skill, fortitude and a never-say-die attitude combust into moments that are firmly embedded in many fans' memories.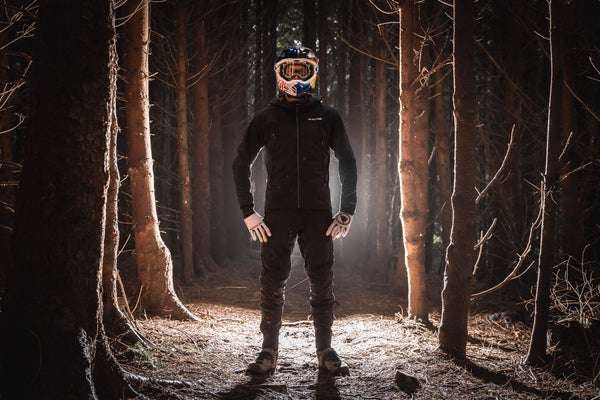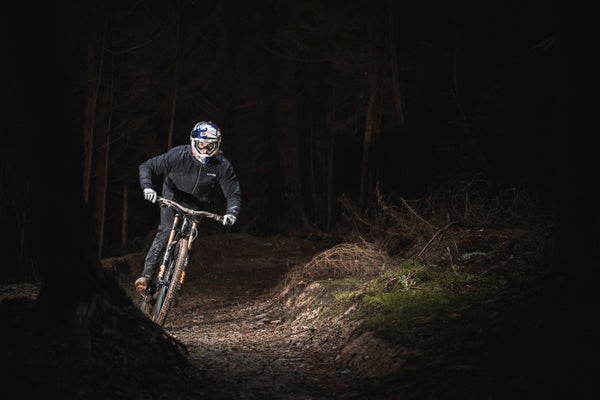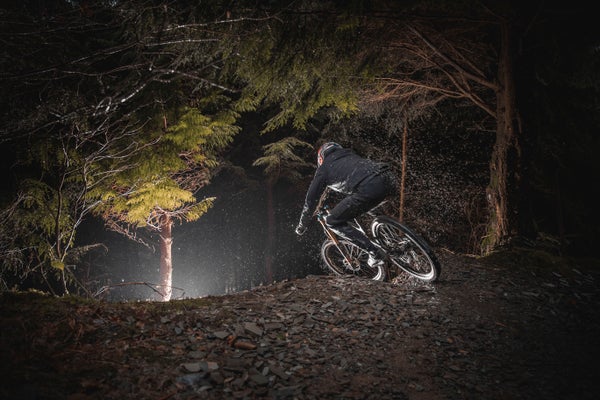 As with most people who operate on slightly different planes, Gee "didn't always realise that what I was doing was boundary pushing". Red Bull Rampage 2003, where he blagged an entry by riding the course outside of practice to demonstrate his skill to the off-duty judges stands out. Winning his first World Cup as a 19 year old in Schladming another. Countless videos from Red Bull Hardline, over shooting snow-ski jumps and the classic Atherton series all cemented his status as not just a racer, but a rider with all round skill and the guts to try new things.
While accepting that "he enjoys the assurance of being admired" for his skill, Gee is still very much aware of his humanity - he might not crash a lot, but when he does, the coming together of muscle and ground have created some shuddering impacts.
Anyone who has seen his crashes from Mont-Sainte-Anne, Canada in 2012, and 2013 (he still raced) and his wince-inducing 2017 crash in Fort William will understand why he describes downhill as "a brutal sport".
"I was never thinking, oh I'm a super tough and these things, I just wanted to be riding more than thinking about injuries..."
Like any pro, Gee has tried to mitigate the effects on his body. "I saw early on how injuries could ruin careers and we all worked really hard to make our bodies able to cope as best they could". Relying on the physical assets built on graft and toil far away from the race track is one thing, but a steely mindset is ultimately what keeps an injured racer between the tapes, and website comment sections are littered with admiration for his ability to roll up the sleeves and carry on "I was never thinking, oh I'm super tough and these things, I just wanted to be riding more than thinking about injuries - between 2002 and 2016, I don't think I missed a World Cup, even if it meant strapping my hand to the bars with tape. I just wanted to be riding, it's that simple".
Perhaps surprisingly, this success and attitude is not defined as a singular achievement; there is a literal kindred spirit that ensures all the Atherton's share each other's highs and lows.
Rachel, the most successful DH World Cup racer of all time, carries an intense desire to win that Gee highlights "in my view, she is the best ever, no one can really touch her career wise. She wants to win so badly" , while Dan has "a huge vision, where the detail isn't important - he is incredibly ambitious with a relentless energy that allows him to make seemingly impossible things happen".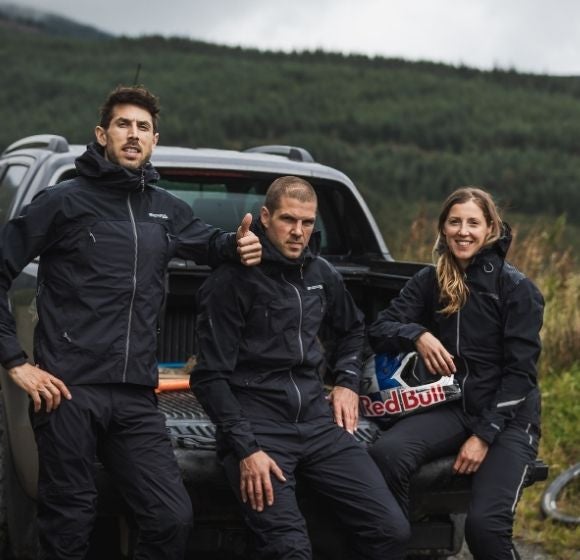 To have 3 genuinely world class riders in one family is remarkable, the fact that they have stayed together even more so, but splitting up was never on their radar "Sure we had offers that we'd sit round the kitchen table and discuss, but our respect for each other goes beyond the family bond. I hugely respect them as riders. We work as a trio. From a selfish point of view, they made me a better rider, and helped me progress".
This bond continues on today - as we speak Gee informs me of a new video project "One of the gnarliest lines I've done in years" and how he has been riding with Dan and Rach at their Dyfi bike park more than ever "Being surrounded by the people we want to have around is so important to us" adds Atherton, before continuing, "We see this as our life's work, a reflection of who we are, so to share that with people, there needs to be a deep level of trust and friendship".
Since moving to Wales over 15 years ago and making it home, The Athertons have largely used the terrain on a transactional basis - it has helped them become world class, and for that reason they have appreciated the often mist-covered mountains that surround them.
"For me, Covid has highlighted two things, that when we are forced to adapt to emergencies, we can, and secondly that I really love racing, filming and riding, and always will"
Yet, taking a rare moment to reflect, Gee now sees a different side to the rugged terrain that he calls home "Firstly, this was Affy's (Dan) vision. I'm a detail guy and couldn't always get it. But over the years he went from building tracks, to making friends with the landowner, to eventually, (and we started believing his huge vision could become a reality at this point), we had a chance to buy 650 acres of woodland, you've no idea how many hurdles Affy jumped".
While the bike park provides an incredible asset - from bike testing, to filming to building a community of riders in a rural area of Wales, there are other elements that have started to interest Gee: "Suddenly we're working with NRW (Natural Resource Wales) and where we've felled Sitka Spruce, we're now looking at what species of tree will enhance the landscape, wildlife and work with our soil" . The climate crisis is still an abstract concept for many mountain bikers but being thrust into land management practices has "made it more obvious to us, we are here, on the land, seeing it change and making sure we care for it to the best of our ability. Affy deals with most of it, but we all realise it's a duty and not a luxury".
Taking on challenges is part of Gee's DNA, and backed by his equally driven siblings, I get the feeling that Gee won't be retiring any time soon "For me, Covid has highlighted two things, that when we are forced to adapt to emergencies, we can, and secondly that I really love racing, filming and riding, and always will".
Footnotes Words by Tommy Wilkinson, Photos by Dan Griffith. Dyfi Bike Park, Pantperthog, Machynlleth, UK
© 2021 ENDURA