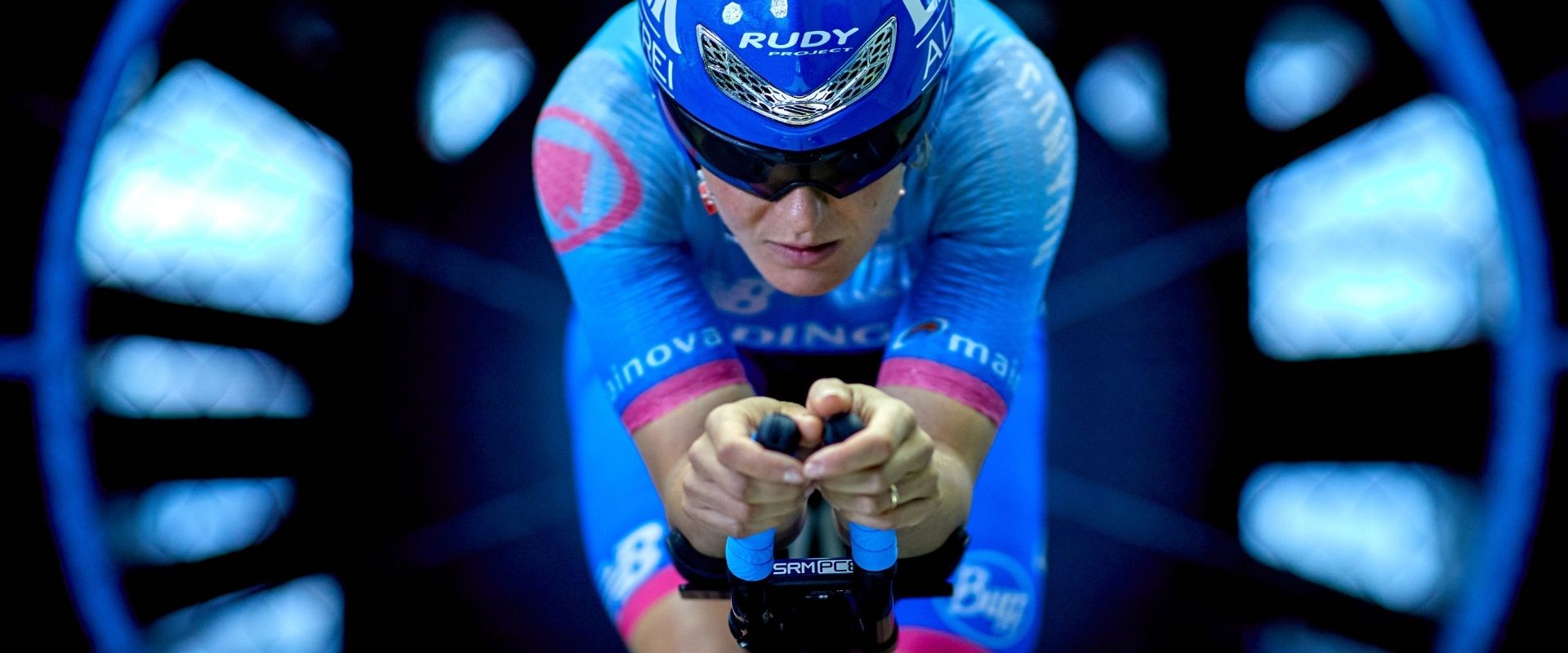 DANIELA BLEYMEHL
Full-time mum, full distance winner
Daniela Bleymehl has crossed the finish line at Challenge Roth in eight hours 43 minutes – twice – gaining her the win in 2018, and third place in 2019. As she nears her seventh season as a pro, the four-time iron distance winner tells us how it all started, and shows us what's possible with the right blend of determination and passion.
"Everything is spread out all over, I hate packing days," Daniela Bleymehl laughs. The 31-year old is at her home in Darmstadt, Germany, in the midst of prepping to go to training camp in Switzerland when we speak. Having placed third at Challenge Roth just a few weeks prior, training is full swing again for the final event of the season – and the most iconic on the calendar – the Ironman World Championship in Kona.

Every October, the Hawaii-based event pits the world's best full distance triathletes against each other in unforgiving conditions. Temperatures in the lava fields can rise to 38°C, while crosswinds of over 30mph ensure that disc wheels are conspicuously absent.
This won't be the first time she's lined up in Hawaii, though. In 2016, she placed 77th after posting a double-figure time – an anomaly for Bleymehl, who is no stranger to the sub-ten iron distance. "It was my worst race. I ended up in hospital," she says. "I walked the last hour of the marathon in pain." At the finish line, she was whisked off to hospital with suspected appendicitis. "Afterwards, I felt perhaps it wasn't the most intelligent decision to keep going – but on your first Kona, quitting is not an option."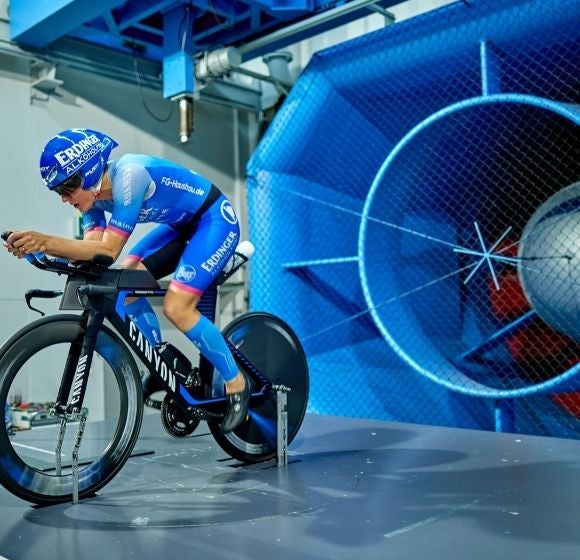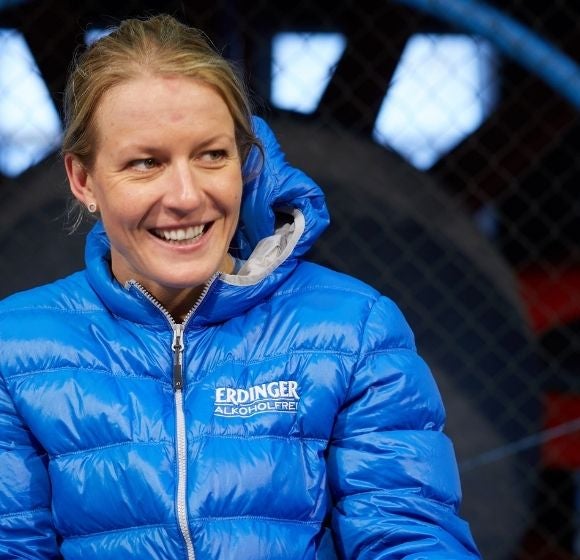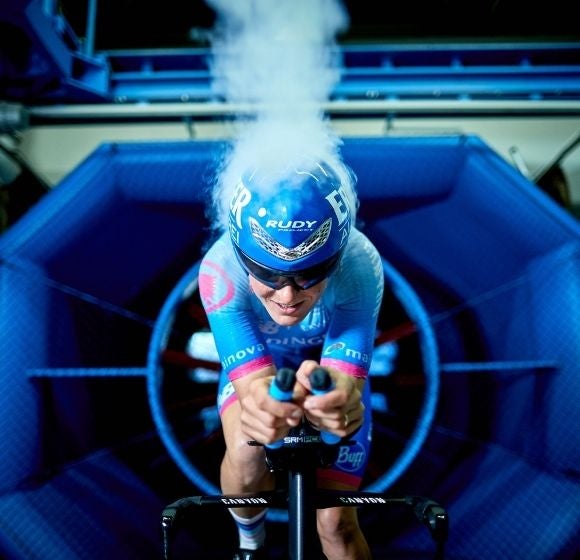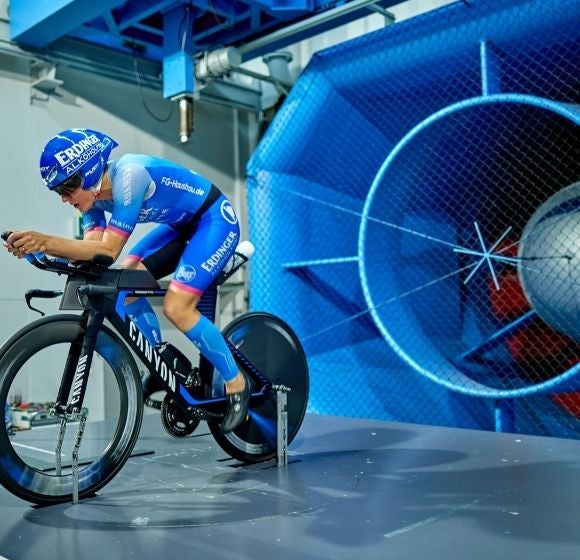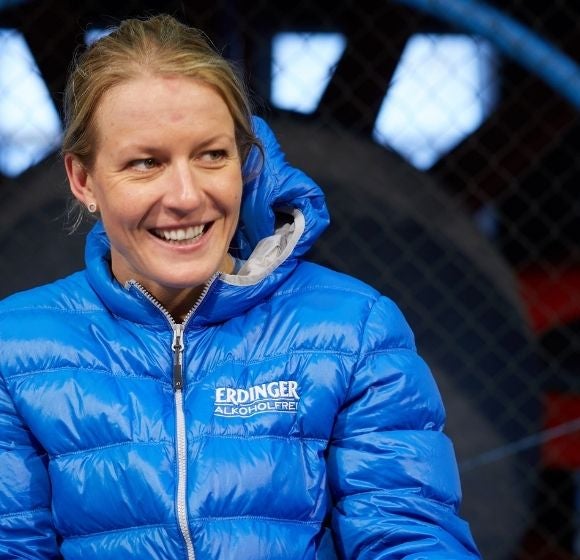 ALWAYS LOOKING AHEAD

Bleymehl's 2019 season hasn't been entirely smooth but, just like that first Kona experience, it has revealed a steadfast determination that is mandatory for the brutal nature of her sport. In July, she had to pull out of her home race, Ironman Frankfurt, after suffering a virus in the lead-up. "Right from the start I thought it wasn't going to be a good race. But in long distance racing there are always dark moments – I thought I might feel better," she explains. "It's hard to quit though, even when you feel that bad. You think, why should I stop when I can still make up time on the leader?" In the end, she pulled out of Frankfurt after the bike section. A little later than – by her own admission – she probably should have, yet early enough to recover in time to race again only one week later at Challenge Roth. "I was happy to have the chance to enter Roth. Having that negative feeling before Kona would have been bad. It's important to look ahead and find a new goal."
The speed of Bleymehl's return to success at Roth only a week after Frankfurt is striking, especially given the high bar she'd set herself the previous year. In 2018, she broke the German full distance record and took the title just nine seconds ahead of Lucy Charles-Barclay. "It was a long day to catch Lucy," she says. "On the swim there was a seven- or eight-minute gap. I took her near the end of the run, so there was only a little time to run away!" The win marked Bleymehl's third full distance title within two years, before she capped-off the 2018 season with her fourth at Emilia-Romagna, Italy.
"When I was a kid, I wanted to win, to be the best. Right from the beginning I liked doing it competitively," she explains. "My dad always said I could become as good as I wanted to. He supported me – but there was no pressure."
Despite the last-minute entry, Bleymehl placed third at Roth 2019, shaving 26 seconds off her previous time and posting the fastest bike split of the day – again. It took her just 4:36:17 to cover the 112-mile bike course... an average of 24mph. That's faster than reigning Roth record holder Chrissie Wellington's bike by 16 seconds, and 2019 winner Charles-Barclay by three minutes.
No surprises then, that Bleymehl's bike confidence seems solid. "I've always been quite good at it, especially harsh and technical bike courses. My favourite is short hills with difficult descents. But I like courses where you can just get your head down, too," she says, "and I have more confidence in the speed of my set-up now." Bleymehl's Endura tri suit is equipped with Surface Silicone Topography (SST™), a silicone technology that's so speedy it's currently banned by the UCI – but fair game under ITU rules. "The numbers in the wind tunnel were amazing – my kit is eight watts faster than the second fastest kit."
In chatting to Bleymehl, it doesn't take long to get a sense that her determination is innate. Growing up in Heppenheim, a little German town just south of Frankfurt, Bleymehl (back then, Sämmler) was no stranger to the discipline of training. By age nine she was in the pool eight times a week, and her first taste of the podium came at 11 when she won the first triathlon she entered. Was this her parents' influence? "When I was a kid, I wanted to win, to be the best. Right from the beginning I liked doing it competitively," she explains. "My dad always said I could become as good as I wanted to. He supported me – but there was no pressure."
It's perhaps no surprise, though, to learn that Bleymehl isn't the first Ironman in her family. Years before she was born, her dad raced at Age Group level, eventually securing the sought-after ticket to Hawaii. "He qualified for Kona in 1988," she says, "but he never made it – I arrived that August!"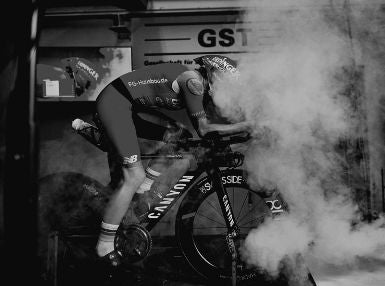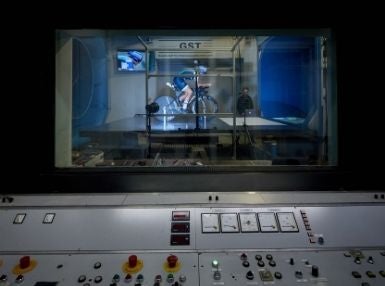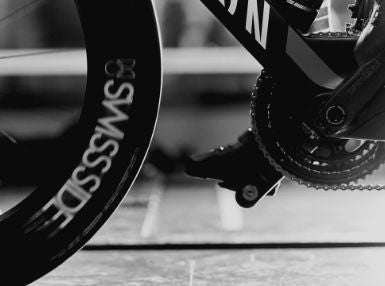 FACE TO FACE WITH FULL DISTANCE
Despite finding that she could win her first races without having to train for them, it wasn't a career as a triathlete that she had her sights on. "I wanted to become an osteopath," she explains. "I'd just started my course when I became pregnant, but it takes about eight years to qualify as an osteopath in Germany, 7am-5pm every day. You can't take your child along with you, so I decided against it."
"That first race was special," she recalls. "The last 10km hurt of course, but it was great to run down that red carpet."
At the same time, Bleymehl was given an opportunity to try her hand at professional triathlon with Erdinger Alkoholfrei, having already been a part of the junior team. But with Erdinger, going pro usually meant 'going long'. "It was an unwritten rule that your goal should be long distance one day," she explains," I was at a point where I needed to decide whether I could do triathlon as a professional or needed to find something else – so at the end of 2012 I did an experiment."
The experiment paid off – 20 months after giving birth to baby Marlon, Bleymehl attempted her first long distance race, Challenge Barcelona-Maresme. She placed third, securing her spot on the pro team the following year. "That first race was special," she recalls. "The last 10km hurt of course, but it was great to run down that red carpet."
NO STRANGER TO THE PODIUM

Two years later, she took her first Ironman title. "Winning Mallorca was very special," she says. "I just couldn't believe it until the last kilometre." Since then, Bleymehl's combined middle and long distance efforts have seen her revisit the podium over 20 times. But a rise to success comes with its own challenges – how does she deal with expectation to perform? "I felt more pressure after winning Roth, especially from within," she explains. "I felt like it was going to be really hard to top that result." But as she nears her seventh season as a pro, Bleymehl says that her motivations have changed a little. "In the beginning I wanted to win and be the best, but now it's… I mean, I still want to win races… but it's more like a journey. My passion has stayed the same, but now it's my life, my job."
"For me, it's simple: I want to feel fit and work on my health every day. And with three disciplines, you can work on so many little things. You can be excellent but you can never reach perfection – you know what I mean?"
"There aren't many days where I don't want to train. For me, it's simple: I want to feel fit and work on my health every day. And with three disciplines, you can work on so many little things. You can be excellent but you can never reach perfection – you know what I mean?"
Bleymehl clearly doesn't need someone to lock her in a room with a turbo, so it's no coincidence that she is now her own coach. "I'm a little different to many pros. Having a family means I pretty much work full-time alongside the sport. I think it's hard for a coach to fully understand when I need rest. But the feeling of freedom, going swimming, running and biking whenever I want, managing my days as I like – being my own boss, that's a privilege that triathlon brings me."
It's clear that Bleymehl loves her sport. So much so, in fact, that when asked about her least favoured part of her profession, she says it's that she can't get enough. "I'd like to do more long distance races a year. But you have to recover from the physical and mental fatigue, and give yourself enough time, that's the hardest part."
"It's not an easy job, but it's a great job," Bleymehl says. "And you can't be a professional triathlete for your whole life, so there will still be enough time to drink wine with my friends in the future!" And, we assume, a little less time taken up by packing…
FOOTNOTESWords by Janine Doggett, Photos by Isaak Papadopoulos. Darmstadt, Germany
© 2021 ENDURA